If World's Premiere Sports Media Company Can't Sustain a Tennis Magazine, Who Can?

IMG-owned Tennis Week shuts print, shifts to Web.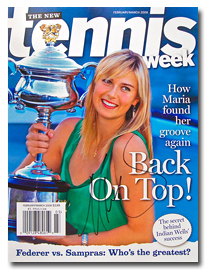 The market for tennis magazines is pretty small. Now it's even smaller.
Tennis Week announced yesterday that it is going on print hiatus, shifting focus to its Web site.
Not surprising, given the enormous challenges all magazine publishers are facing at the moment. That is, until you consider the magazine's publisher: IMG.
To the uninitiated, IMG is "the world's premier and most diversified sports, entertainment and media company. We partner with the world's leading marketers and media networks to help them grow their businesses through our event properties, media production and distribution, talent brands, sponsorship consulting, brand licensing, sponsorship sales and other services."
They're also, like, the most powerful sports management firm in the world, with more than 60 offices in 30 countries representing more than 1,000 athletes and a client list that reads like a hall of fame.
Check out IMG's roster of tennis players alone: Roger Federer, Rafael Nadal, Maria Sharapova, John McEnroe, Bjorn Borg, James Blake, Venus Williams.
If they can't sustain a tennis magazine, who can?
Here's the spin on Tennis Week from the top IMG executives:
Brandusa Niro, SVP of IMG Publishing: "This is a timely evolution of the Tennis Week brand and a shift in format based on reader and viewer demand. We certainly respect the heritage of the Tennis Week print edition, but covering the game these days requires immediacy and urgency, and we must address the new media habits of tennis fans. They want instant news, they want video, and they want content that moves as fast as the game itself."
Lee Rosenbaum, VP: "If your beat is seasonal gardens, a magazine printed 6-8 times a year can do the job.  But for the fast news cycle of sports, the digital space is the answer. Both the consumer and advertising tennis marketplace made this decision for us—and it's one we embrace as having considerable upside.  And as a company so committed to tennis, content and production, IMG is uniquely positioned to really grow tennisweek.com in scope, scale and quality."
Meet the Author
---