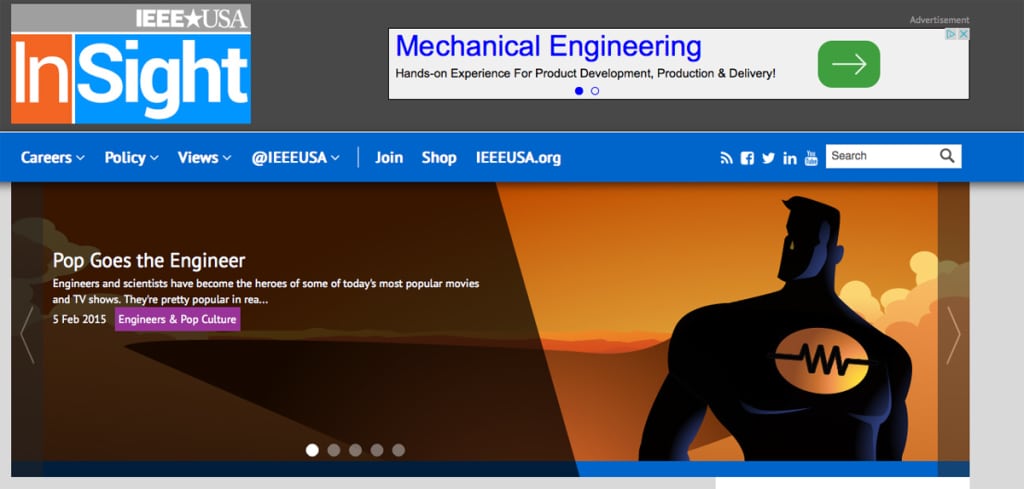 Engineering and technology association IEEE has launched a new web-based publication for its U.S. division, IEEE-USA. Called IEEE-USA InSight, the brand takes the place of two publications that served the same group and were discontinued in 2013 and 2014.
Simultaneously, the U.S. group relaunched its ecommerce shop, opening up access to more than 150 eBooks.
IEEE's American membership is almost 47 percent of the association's 430,000, so a dedicated media product that dealt with topics particular to that audience—career and public policy issues, for example—was a top priority.
Yet, like most publishers, IEEE had limited resources for a new launch. So a brand that took the place of Today's Engineer, which was discontinued at the end of 2014, and IEEE-USA in Action, which shut down in 2013 but lived on in a digital archive, made better budget sense.
"Like many association publishers, we find ourselves needing to do more with less," says John Yaglenski, director, communications and information at IEEE-USA. "We were publishing two well-received publications, but it made sense to consolidate that content under one roof, freeing up staff resources to concentrate on other projects, such as our growing e-books program. In addition, rather than dividing our target audience between two platforms, we decided a flagship publication that allowed our content be presented in one place made more sense."
IEEE-USA opted for a mobile-first, responsive site with an emphasis on interactivity—commenting, polling and article rating.
IEEE-USA's new online shop was built as a mini version of IEEE's main ecommerce platform, IEEE Xplore. The old version, says Yaglenski, was a custom-built solution that was having a hard time accommodating the division's growing ebook operation.
"We had a out of date, custom-built solution, that originally was designed to serve another purpose, and was shoehorned to fit our ever-growing catalog of products/services," he says. "Putting together our IEEE-USA Shop involved leveraging the power of IEEE Xplore and its cart experience by migrating more than 150 IEEE-USA eBooks, so that they are discoverable there."
Going forward, IEEE-USA plans to add an array of salary compensation tools to the store.