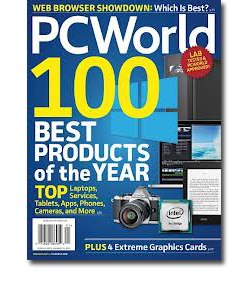 After 30 years in print, the current August issue of PCWorld will be the last, IDG announced today. The magazine will switch to a digital-only format from now on.
There are 339,000 print subscribers, per the title's AAM audit report, and if they want it, they'll need to register online to receive the digital version of the title.
No staff will be impacted by the move, says the company, and the transition to digital is only for the U.S. edition of PCWorld.
"Both technology users and marketers have led the way in the shift from print to online and our decision to end 30 years of PCWorld print publications reflects their preferences," said Bob Carrigan, CEO, IDG Communications in a prepared statement.  "PCWorld colleagues in the U.S. will now focus on innovative digital-first editions featuring interactive multimedia presented in high resolution."
The digital version of PCWorld will be available on iOS and Android devices, including Kindle Fire, iPads and iPhones.