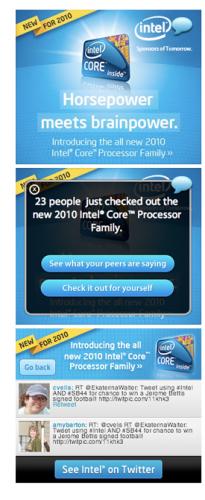 In March 2009, IDG Communications launched its Amplify service, a social media marketing services group. The concept is akin to a custom publishing operation, but strictly focuses on helping marketers navigate and leverage the social Web. After about 15 months in, we caught up with Matt Yorke, IDG's president of strategic marketing services, who gave an update on how the service is going.
What kinds of campaigns is Amplify creating for its marketing partners?
On the marketing side we've been doing this now for about 15 months and early on we had a lot of clients asking us about social media and asking for help.
The first simple thing we did was build an ad unit, bringing the social Web into the unit, or sharing the ad unit within the social graph. We sold millions and millions of dollars with those types of units and it made us realize that there is another more complex part of the puzzle, which is social media services. We can help clients understand what the social Web is, how consumers talk about brands and from that, build a map to help clients design objectives around social media. What are the KPIs? And then around that, build a social media strategy.
How has this aspect crept into your proposals in general? Are these standalone proposals or part of broader services?
Pretty much every single proposal that leaves this office related to a marketing initiative has a great big chunk of social in it. It could be tactical where we build a campaign that brings the social Web into the ad unit or we broadcast the ad unit to the client's social graph. Or it could be more strategic where we're building Facebook or Twitter pages. We've worked with IBM, HP, Sprint, Microsoft, Dell and some smaller clients in the gaming space.
What do these ad units look like? How do they work?
It's a standard banner or leaderboard, there are several different versions. But typically you'd see an ad and maybe there's a video in the ad and then above the video there's a count that shows how many PCWorld readers watched that video that day. It shows how many users engaged with the ad and makes it feel more personal. There's an embedded share link and it can be embedded in a Facebook stream, which registers as impressions too.
A similar unit has a running stream of people commenting about a brand or market. If you click on that link it drops you into that particular blog or article. It's contextually relevant. Here's more content around the ad unit from the long tail of the Web and here's more users just like you who are commenting on it. We trust each other more than we trust the advertiser, it just means more.
How are publishers uniquely positioned to offer these services?
It's about understanding how people engage with content, and that's a publisher's actual job. We used to build these very detailed qualification criteria for customers to get our publications, which brought us very close to the customer. Over time it became a battle of circulation and weren't as close. Then the Web arrived and we didn't know you at all. The social Web allows us to go back in time and get to know them better. We have a direct relationship with users again.