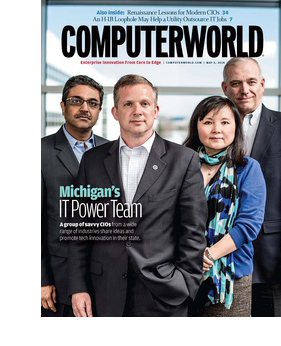 IDG Enterprise is closing the U.S. print editions of Computerworld and CSO. The group, which also publishes InfoWorld, CIO and Network World, among others, plans to keep the brands on a digital and event-centric publishing model.
June CSO and the June 23rd Computerworld, a biweekly, will be the final print issues. CSO has a circulation of 27,000 and Computerworld is 165,000.
The digital audiences are comparably larger—Computerworld averages 2.9 million uniques and CSO averages 228,000.
As it stands, the brands' current model is  a mix of sponsor and ad revenue along with events, marketing services and data programs, says IDG Enterprise CEO Matthew Yorke.
"Readers can get access to additional premium content by registering for a free Insider membership," he says. "We are developing new models, which incorporate sponsor/ad revenues as well as a paid model for exclusive content and resources (in addition to the premium content that anyone will be able to access. The entire site will not require a paid subscription).
According to Yorke, there will be no staff reductions related to the change. "Resources will be re-allocated to the premium Insider content and that strategy."
IDG, and other tech-oriented publishers, have been pursuing this model for years now, gradually shutting down print magazines and transitioning the brands to digital and live event models, while simultaneously building out their marketing services groups.
IDG Enterprise's InfoWorld transitioned to a digital-only model in 2007. More recently, Network World followed that same path. PC World, which isn't part of the IDG Enterprise division, also went digital-only in 2013.
Yorke remarked at the recent Folio: Growth Summit that the company manages print for profit—and if there is none, then it's either treated as a marketing expense or transitioned out of the model.
CIO is the only other IDG Enterprise brand that still has a print component.