IAB: Smartphones and Tablets Have Different Roles for Consumers and Publishers

Report shows tablets are the preferred device for reading news and magazines.
A new report from the Interactive Advertising Bureau (IAB) and ABI Research shows that smartphones and tablets play different roles in consumers' lives—and publishers need to be aware of the difference.
The report, titled "Mobile's Role in the Consumer's Media Day," tested the hypothesis that time, location and device are the key attributes behind consumers' daily media use. The result: Smartphones are considered critical to functioning in daily life (70 percent of the 552 smartphone owners said they wouldn't leave home without it), while tablets are considered to be entertainment and media hubs (70 percent of the 563 tablet owners consider it an entertainment device).
In addition, the report found two audiences are emerging. One actually drives traditional media consumption through mobile, while the other detracts from it. One example: When reading a print magazine or newspaper at home, 64 percent of smartphone users were also browsing the Internet and checking email; 53 percent accessed social media and 49 percent shopped. However, 48 percent used their phones for "companion print-reading activity."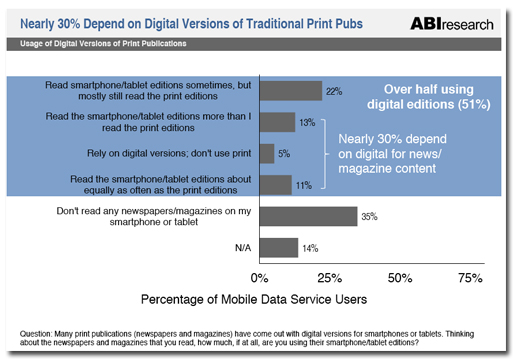 Among tablet users, the percentage engaged in "companion print-reading activity" was far higher: 81 percent of tablet owners who read print magazines or newspapers at home used their tablet to find out more about the article they were reading. For tablet users/print readers, listening to music on their tablet was the second-highest usage, at 74 percent.
"The tablet is an advanced cousin of an e-reader. It's a natural device for consumers to want to read content on," says Joe Laszlo, senior director at the IAB's Mobile Marketing Center of Excellence. "One of the valuable findings is that it's not all negative; about 32 percent of tablet owners said they read less content from print media because they own a tablet. But 17 percent of tablet owners said they read more content from print magazines and newspapers—so the effects [of ownership] go in both directions."
Virtually half (51 percent) of the respondents said they read digital editions of news and magazine content at least some of the time. Another 35 percent said they never read digital editions of print and just 5 percent were on the opposite end of the spectrum, saying they relied solely on their digital devices to read the news and magazine content.
How will those results change in the next five years? "I think that consumers are going to maintain their relationships with print media brands that they like and bring those relationships with them onto their tablets, and to some extent, their smartphones as well," Laszlo says. In five years, he adds, "it probably will be a larger number of folks who say they're going digital-only with their magazine subscriptions, if that option is available to them."
And that, Laszlo says, is an opportunity for publishers. "My gut sense is that, if a consumer is willing to subscribe to the print edition of a magazine, and they have at least as good an experience with the tablet edition of that magazine, they're probably going to be willing to pay a comparable subscription price. The industry has a real opportunity here, whereas the PC-based Web has proven to be a medium where it's very hard to charge for print media content."
Ads on tablets are also in the early stages, and the IAB has just begun exploring ways to standardize tablet ad formats. Laszlo sees greater advantages for magazine publishers in this area, too. "With applications on tablets, we see much more propensity towards full-page ads, and consumers are more willing to accept full-page ads, for example, between articles in a magazine or in between levels of a game. The full-screen aspect gives a good creative agency a lot of canvas to play with and makes it much more likely the user will notice that ad, and perhaps stop to see what the message is."
The report did not cover different content genres, something that Laszlo says he would include in future studies of mobile device usage.
 
Meet the Author
---