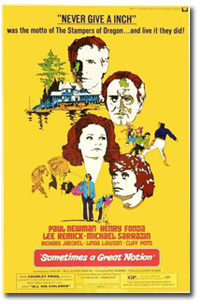 Did you ever read "Sometimes a Great Notion" by Ken Kesey? Yes, the Ken Kesey with the psychedelic bus. Before the Merry Pranksters and after his successful "One Flew Over the Cuckoo's Nest," Kesey penned this novel, one of the great works of American fiction, a sprawling tale of the struggles of a northwest logging family, the conflict between brothers, the small independent logging company the family owns and their fights against larger timber interests.
The most recurring metaphor in the book is fighting progress, alluded to in the form of the Stamper family home, which is built on a bend of a great river that is constantly eroding away the property. Over the years the Stampers built a crude series of barriers, wired posts and piers to prevent this from happening, but the river is relentless, as rivers will be. Some of the most vivid passages in the book portray the father and older brothers' attempts to keep the river from destroying the property, typically out in the night in vicious storms, lashing the piers back together, fighting the river of progress, the river of change. The book was made into a film starring Henry Fonda and Paul Newman, with the tagline embodying the philosophy of Henry Stamper, "Never Give an Inch."
So, what does all this have to do with magazine publishing? Out west last week, I was pitching print (along with our online properties) to marketers who thought I had landed there from another planet. To one, print was so alien that he took a genuine interest in it. It was a novelty. More and more marketers start conversations by letting you know that they're not doing print as a matter of fact. Many of my competitors and fellow high-tech publishers have given up, letting the river flow, and you can see the results in the steadily eroding group of high-tech titles still in print. I can't quite explain why, but like Henry Stamper, I refuse to yield. I refuse to bend to the times, to just accept the advertiser's misguided notions that print is dead and not even worth talking about. While I'm happy to sell a few white papers at the end of the call, most of the time I'm taking them out to the woodshed to disabuse them of their anti-print bias—whether they buy it today or not.
It's up to those of us in the industry to stand up passionately for what we believe in and what we know to be true. The easy days of print as an accepted medium are over. Washed well downstream. But we know people are still reading our publications, and becoming aware of and interested in companies through the print ads. It's up to us to lash together the arguments and fight.
We're deep into contract season and I'm getting on planes to visit customers. And I'm not giving an inch.