'Hyper-Local' Magazine Develops National Franchise

Behind the rise of Edible.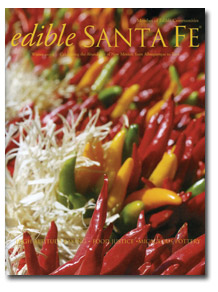 Magazine publishing does offer a low barrier to entry and like restaurants, would-be entrepreneurs often dream of starting their own. Now the publisher of a local food title serving a region of 8,000 has built a national franchise of regional titles where starting up is even easier (provided you've got the bucks to join).
In the spring of 2002, Tracey Ryder and Carole Topalian, owners of a successful graphic design and marketing firm, launched Edible Ojai, which focused on local foods in Ventura County, California. The magazine sparked a nice local response but business consultants and even other publishers didn't grasp the model. "They basically patted us on the head and said 'You're doing a great job with Ojai but we can't help you,'" says Ryder.
Then two separate events put Edible Ojai on the map. Ryder and Topalian became acquainted with D. Hawk—founder of the Visa card, and whose son is an entrepreneur who works with startup businesses. Ryder and Topalian developed a hybrid Visa model in which franchisees could launch their own Edible publication.
In 2004, Edible Ojai was profiled in the Saveur 100 as one of the 100 best things related to the food world. "We got a lot of inquiries from that article—more than 200 people," says Ryder.
Membership Benefits
Today, Edible Communities features 54 titles, ranging from Edible San Francisco to Edible Shasta Butte. Licensees pay $90,000 (although the price will soon go up) to buy in (one-third upfront, the rest financed over five years) and agree to certain conditions, such as being four-color, publishing a certain size of folio and publishing at least four times per year. Franchisees also kick back a royalty fee of five percent of the total ad revenue for their magazines.
Participants receive training (ad sales, production, distribution) and can fall back on the experience of their affiliates. Topalian shoots a photo archive of 2,000 to 3,000 images that participants can use for their magazines and Web sites. "We spend the whole first year someone starts a magazine working with them, training them, going to their location," says Ryder. "The beauty of this organization is each publisher sends a copy of the magazine to all the other publishers. They have a listserve online and can ask each other questions. It's very collaborative—they're not competing with each other."
A Second Career
While Edible Communities will work with distribution companies in larger markets, the majority of participants are putting their titles directly into local retailers. On the edit side, the company offers columns from high profile writers such as Barbara Kingsolver, as a supplement to the local content. Edible Communities also does a competitive analysis in each market to help set ad rates. Edible Ojai—still the smallest region served—offers a full-page rate of $1,200 while titles in the Boston and Atlanta areas are in the high $3,000 to $4,000 range.
Many of the franchisees are younger retired couples looking for a second career. Doug Langeland, a former pharmaceutical executive, and his wife Diane, a former marketing executive, were the pilot franchise with Edible Cape Cod. "We went from complete novices to having magazines on the newsstand in seven or eight weeks," says Doug Langeland, who adds that the publication has taken off within the last 14 months. "We've consistently been ahead of expectations with ad revenue. People teased us when we started that we'd be just writing about cranberries and cod, but we haven't had to write about either one yet."
Each magazine has a supporting Web site while the national site has a blog. In 2008, Edible Communities is looking to ramp up its online component, including peer-to-peer content.
Edible Communities became profitable in the fourth quarter of 2006, and in 2007, it reached $1 million in sales, according to Ryder. "We've received a lot of interest from parties about acquisition and we heard from three major media giants interested in acquisition," Ryder adds. "We did consider it with one but we're not at that point yet. I won't say it won't happen in a few years but right now it doesn't make sense."
Meet the Author
---