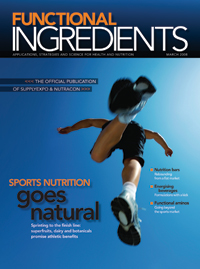 It can be harder than one might think to find an out-of-the-box cover for Face Up each month. This is especially true in b-to-b, since it's not as simple as scanning the newsstand for a stand-out.
That's why I was so excited to come across Functional Ingredients' March issue, which looked to me like a young boy running on glass—but in jean shorts, like he was on recess at school. A person in every day life rather than an athlete running in an event, something we see all the time on the newsstand.
Turns out this annual issue usually features ingredients on its covers. Humans hardly ever make the cut. So the magazine went even further out on a limb and agreed to put their work to the test, offering the cover up for critique by FOLIO:'s Face Up panel of designers.
Overall, response was positive with some constructive criticism sprinkled in.
Now your mission, should you choose to accept it:
1. Offer your input on this cover by taking the Face Up survey (and a chance to win an iPod shuffle).
2. Offer up your magazine's amazing, under-the-radar cover by emailing me at jpettas@red7media.com.