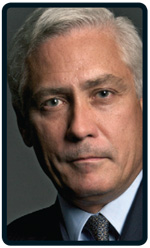 After Bloomberg bought Businessweek from McGraw-Hill in October 2009, there was a lot of work to be done to restore the vitality of the magazine. Wiley and team succeeded with a dramatic turnaround in a short amount of time.
Hugh Wiley, publisher of Bloomberg Businessweek, used 2010 to get the publication back on its feet (The New York Times reported the magazine lost more than $43 million in 2008). Wiley said that their strategy included better integration of Bloomberg Businessweek on cross-platform media packages and hiring a custom content team to match custom solutions with advertisers. He also said they strengthened their sales organization with new offices located in Japan, Atlanta and Texas; as well as further integrating the print and digital sales teams.
"We've positioned ourselves in the marketplace as an investment story—sending the strong message that we're the only business magazine that is investing, while others are cutting back—and as the only weekly and global business magazine with an eye on preparing our readers for the week ahead," says Wiley.
These efforts have paid off, with Businessweek seeing a 65 percent increase in ad pages in the fourth quarter of 2010 and a 50 percent increase year-over-year in 2011's first quarter.
Audience numbers are up as well, with traffic numbers of 13 million visitors to Businessweek.com in 2010. 2011 holds plans of a redesign to the site, in order to "build on what was record traffic growth last year."
Businessweek is now looking to expand in the digital market in 2011. "We'll be launching a Bloomberg Businessweek iPad app in April that has already sold out of its first round of sponsorships, with sponsors including Net App, Infinit, Oppenheimer, Goldman Sachs and BASF," says Wiley. There are also plans for new and expanded mobile apps.
Bloomberg Businessweek will also be a key player in the new Bloomberg Media Group, Wiley said, with emphasis on cross platform packaging across print, TV, online, radio and events. The Media Group launched in late March.
The publication will also be focusing on matters outside of U.S. soil, with new ventures including a revamp of Bloomberg Businessweek/China.
VITAL STATS: Bloomberg Businessweek saw ad pages jump more than 60 percent in 4Q 2010 and 49 percent in Q1 2011.