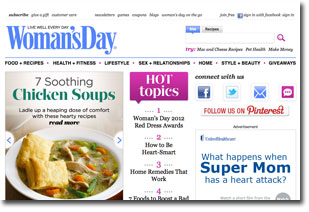 As publishers are quickly realizing, the digital conversion does not end with tablet-ready editions. 2011 was deemed "the second year of the iPad," but 2012 is shaping up to be the advent of the mobile content focus (read: both tablet and smartphone-ready Web content). HTML5, with its device-agnostic and Flash-free capabilities, is seen as a way to fast-track this mobile jump.
Some publishers, like Hearst, are bullish on the HTML5 transition; others, such as Rodale and Atlantic Media's Government Executive, are stepping more carefully into the arena.
Moving Forward
Hearst began its HTML5 conversion in September, moving Good Housekeeping to the new platform. The publisher said it would complete the HTML5 transition of its magazine portfolio by the end of 2012. According to Hearst Digital Media's vice president of programming and product strategy Mark Weinberg, the publisher is on track to meet that goal.
"We relaunched Woman's Day in December, and that was effectively the same approach that we used with Good Housekeeping," says Weinberg. "We took a number of the basic applications we had developed for Good Housekeeping and fast-tracked them to a number of our other sites. The promo players on all the sites are now HTML5; meaning that the primary advantage is that they work on iOS devices, as they were Flash before and didn't work."
Other updates include a "light refresh" of Delish.com and a new version of Hearst's Flipbook. The improved Flipbook is now live on Esquire, Popular Mechanics, Country Living, Harper's Bazaar and Real Beauty; at time of print, Weinberg said Marie Claire and Hearst's other sites would be updated to include the new Flipbook by early March.
According to Weinberg, Hearst's early arrival to the HTML5 platform is paying off in audience numbers. He would not share exact metrics, but says since Good Housekeeping.com's redesign, the site has experienced record monthly traffic, unique visitors and page views.
Weinberg and his team now face a new set of challenges going forward. "How do you create new programming?" he asks. "This is going to be the challenge of the next two to three years: How do you deliver experiences that are unique, valuable and differentiating on different screen sizes while maintaining brand unity and integrity? Just because it fits on a small screen doesn't mean it's useful."
Looking Around, and Planning Ahead
In b-to-b, Atlantic Media's Government Executive is just beginning to map out its HTML5 route. The news source serving federal managers recently revamped its website using its parent company's homegrown CMS, and was on the brink of releasing a slew of apps at time of print.
Krystle Kopacz, digital product manager of the Government Executive Media Group, says the new coding language caught the attention of her staff. "For us, and for many b-to-b companies, we're lean; every media company wishes they could have more development resources. Having to develop all of these different platforms, it's weight on your team," says Kopacz. "We're looking at how we can apply it and have it work in every browser, in every device in a way that makes the reading experience better."
Kopacz highlights the morphing capability of HTML5 as the biggest draw. "As the browser changes width, rather than crunching as it does now, it really files into whatever the width is. Elements move around to make it better for the reader in a smaller screen experience."
Like Government Executive, Rodale has watched as other publishers go all-in with the HTML5 switch. "We're keenly following The Financial Times, who moved their print product onto HTML5," says Matt Bean, associate vice president of mobile, social and emerging media with Rodale. "It would give us a great level of control over how we would interact with our customers. HTML5 is front and center as we look to re-platform our devices or look to new projects that are going to help broaden our reach across platforms and help us maintain a uniform user experience across platforms."
Bean identifies another attraction of the coding platform. "HTML5 brings advanced level functionality into a mobile experience. In the past you weren't able to access geo location; now you can."
Bean also touches upon the late Apple CEO Steve Jobs' infamous aversion to Flash (a problem now eliminated by HTML5), as well as the responsive design layout the coding platform provides.
"In the past, a cross-platform development project meant trying to find efficiencies across Apple and Android, and that's difficult. It should be about developing a native app. With HTML5 you can do that in a way that's more seamless, and with a less heavy lifting," says Bean.
Despite the excitement, Bean provides a grounding view of the "next big thing." "HTML5 in practice is different than how it is viewed as a buzz term. It's simply a revision of HTML4, which is a revision of HTML3, going back to the original hypertext markup language. It's possible to incorporate HTML without 'launching' a huge HTML5 project. Most new sites created nowadays take advantage of HTML5 tags."
The glitter of HTML5, like many other technologies, social networks and ideas currently catching fire in the publishing industry, is bound to diminish as it becomes simply another Web standard. Then, publishers will turn back to the most pressing issue of all: What their audiences want.