New York Publishes Single-Sponsored Issue

HSBC buys 24 front-of-book ad pages.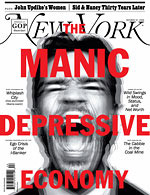 Joining a small but growing list of publishers to turn over their magazines to a single sponsor, New York magazine this week sold 24 front-of-book advertising pages to HSBC, the European bank—making it the magazine's largest single-issue advertiser ever.
"New York magazine and nymag.com are vehicles for marketers who want to make a strong and immediate impact with an influential audience," said New York Media publisher Larry Burstein.
HSBC's campaign is part of a series of 17 ads—some spreads, others full page—which touts the campaign message "different values make the world a richer place." The statement appears on covers two and four of the magazine and appears as pop-up as an interstitial on New York's Web site.
New York isn't the first to sell so many pages to one advertiser. Target famously sponsored an entire issue of the New Yorker in 2005. In August, ABC Television sponsored an entire issue of TV Guide.
This week's issue of New York includes a note to readers on the table of contents page explaining that HSBC's advertisements had no impact on editorial content. The note reads, in part: "Because this is an unusual event, we thought it worth reminding you that the ads and editorial matter in New York are always completely independent of one another, this issue included."
While most consumer magazines have been hit hard by the economy in 2008, New York magazine has been essentially flat through the first three quarters, with ad pages dipping 1.7 percent.
The New Yorker, by contrast, has seen its ad pages plummet 22.3 percent over the same period.
Meet the Author
---