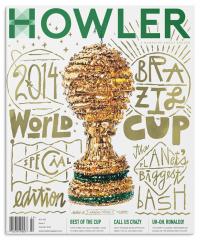 Crowdfunding is helping a lot of innovators and tinkerers develop ideas into products. Of course, just because a campaign is successful, doesn't mean the product will thrive in the marketplace. That was a risk George Quraishi and Mark Kirby were willing to take when they developed Howler, a print magazine about soccer for an American audience.
When you put all of that together it may seem like a recipe for failure, but Quraishi didn't think so. "I love magazines, I love soccer and I'm an American, that's sort of the formula," he quips. "My friend launched a video game magazine called Kill Screen and I watched him do that and succeed so I thought I could totally do it with soccer."
He was correct in that assumption.
Howler raised $69,001 on Kickstarter through 1,441 backers-with 1,045 of those backers seeding between $15- $50. The campaign closed in June of 2012 and the magazine recently rolled out its fifth issue. What's more, Quraishi says his magazine has never lost money.
"We've never been in the red, something I'm very proud of," he says. "Part of the reason is we don't pay a living wage to our freelancers. We do pay and we have increased the pay each issue, but it's not something any of us are getting rich from. But we feel like there are enough people who love soccer who should be subscribing if they only knew about it. We're going to put in a lot of work in the early days."
In other words, the passion that was formed through Kickstarter is a big part of the company culture. While Quraishi's team aren't volunteers per se, they are making some big sacrifices in order to make Howler the authoritative American voice on soccer.
Howler plans to keep its highly visual large format print magazine as its principal product, however the brand is expanding its content and is creating notable synergies with other media companies.
When the first issue rolled out, 700 copies were sent to subscribers. Subscriptions now top out at around 3,000. But Barnes & Noble ordered an additional 7,000 issues of its current World Cup issue, which jacked up its print run to 14,000 issues.
The World Cup is a big opportunity for Howler to scale up-an opportunity that only comes around every four years. Other publishers are looking to the brand to improve their own coverage of soccer's biggest event. Gawker Media's Deadspin teamed up with Howler to launch Screamer, a coop blog that will cover the tournament. Also, Slate is embedding the brand's podcast onto its site.
"It feels like were gaining some traction," Quraishi says. "We're at a stage where other media companies that are bigger than us are interested in partnering with us. They obviously aren't doing it because we're a giant, they're doing it because they think we're doing good work."
Looking ahead the brand is weighing more product extensions, including deeper digital video content, a book imprint and even possibly a television vertical.