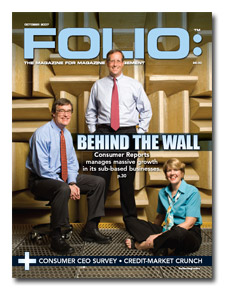 The story everyone seems to know about Consumer Reports these days, aside from a strict adherence to a "no commercialization" policy, is the phenomenal success of the magazine's Web site, consumerreports.org. It's got the traffic: 46.5 million average monthly page views. It's got the Web 2.0 features: Video, RSS feeds, blogs, commenting features, forums, and more.
But it also has what's become almost anathema to Web publishers: A paid content model. The site is expected to break the three million paid subscriber benchmark this fall, making it, according the company, the largest subscription-based publication on the Web. For 10 of the last 12 months, the site has added a net of more than 50,000 subscribers each month (a yearly sub costs $26). Meanwhile, The New York Times dropped its subscription wall in September and the Wall Street Journal, long considered an early and successful Web-based subscription model, has been talking about doing the same.
Yet there's more than just the success of the Yonkers, New York-based consumer advocate organization's Web site. In fact, this is not a story of a publisher making headway on the Web to counter flat or declining print revenues. On the contrary, Consumer Reports has grown its newsstand sales by 50 percent over the last two years, and has maintained its 4.3 million subscribers. The company has also successfully launched a new print magazine, ShopSmart, despite a 180-degree, mid-launch about-face with its target market, switching from male shoppers to female shoppers, and a crowded shopping category that has already seen its share of shutdowns. That title sells 150,000 newsstand copies bimonthly.
The flip side is, however, that the $208 million in fiscal year 2007 content-driven revenues, for the most part, are completely dependant on subscriptions, both online and off, and that $208 million represents 15 percent growth over the previous two years. So the company is tasked with a combination of bullish strategies on growing a subscription-based business model while sticking to a highly transparent and advertising-adverse mandate that has earned a deep and abiding trust from its customers.
Kevin McKean, vice president and editorial director; John Sateja, senior vice president, information services; Kimberly Kleman, editor-in-chief and deputy editorial director; and Jerry Steinbrink, vice president, publishing sat down with Folio: to discuss how they're managing the growth and the products' distinct editorial missions.
FOLIO: How much overlap is there between the magazine and the Web site?
John Sateja: Well, 650,000 subscribers have the magazine and the Web site, so that's the extent of the overlap. Otherwise they are distinct audiences.
FOLIO: Why do you think that is?
Sateja: There are some people who like print and there are some people who like online and the point is you want information in front of the people in any form they want. So, for example, on a mobile phone, on the Web, in print, in book form, or on TV.
Kimberly Kleman: And what we are trying to do is make each media product different. The Web is for researchers. If a person's refrigerator broke last night and they need a new one they'll go to Consumer Reports' Web site. But the magazine is also for browsers, so we have to tell good refrigerator stories. We have to tell you that, if you already have a refrigerator, here's a little tidbit of information for you as well. So, we are increasingly making the magazine a really good read for people who are mildly interested as well as those who are going to the store tomorrow.
FOLIO: How are you set up editorially? Is there a separate editorial division for the different products?
McKean: There's one editorial division, and there is a consolidated pool of reporters and then of course a consolidated pool of testers who feed all of the media products. Then each media product has a small staff of its own. So the magazine staff probably has four or five people that do nothing but magazine and Web content.
Kleman: A couple of years ago we had a major reorganization of the editorial division. We were so focused on the magazine but then we created this Web site that is now the largest paid subscriber site in the world and we have newsletters and special publications and other books. Before, the editors and reporters were aligned with the magazines, but all these other products needed content, too. So, people were scheduled according to the magazine schedule, and when the Web needed a story the attitude was, 'Well yeah, when I finish my magazine obligation, I'll do that.' So there was a rip there for awhile. We reorganized the entire editorial division and we sent every reporter and editor into what we call a franchise. We have five major franchises: Cars, electronics, health, home and finance. Each person reports to a franchise and their job is to serve all of our media products now. They don't report to me. They don't report to the Web editor or the book editor. They report to the executive editor of that franchise.
FOLIO: What was it like merging the editorial responsibilities?
McKean: It was actually pretty hard. There has been a history of this where the Web staff has been kept separate. That was the case here until 2005. When you have separate Web and print editorial staffs, you get a faster response on the Web site, but you can't do the kind of volume that we have to do. You can't spread content smoothly across, so we think of this as a media-neutral approach.
Kleman: The key has been getting a person that knows how to schedule people well, so it's not like they have five times the work that they are used to because suddenly they're writing for a book and for the Web, so we have to be really careful of their schedules.
FOLIO: It seems like the key to the whole thing is that project management aspect of it.
Kleman: But it's also thinking strategically across each platform. If you've been a print reporter or editor, you know what the magazine wants; you know what the right sidebar is for a given story. And the Web demands different things that requires you to think interactively. Is this better as a chart than a whole story? Is it a quick blog entry? Or is it longer piece? It's required us all to wear new hats.
Sateja: We have to turn our disadvantages into advantages. One of the things we do is, because Consumer Reports doesn't accept ads, there are certain stories that we can do, and others we can't. We've gone out of our way to find those stories and do them. For example, for years, there have been videos readily available for auto crash testing. Some of the sites we compete against that are supported by car company ads cannot, or won't, show these videos. But we figured that people would like to see how cars do in crash tests. So, working with the Insurance Institute for Highway Safety, we put together over 200 videos where, for almost any car you might want to buy, you can watch that thing crash.
FOLIO: Talk about the ShopSmart launch. Describe the opportunity and the launch process. Was there any trepidation in the launching a new print product?
McKean: There's always a little bit of concern, especially in this environment. Print circulations are soft and there are not a lot of newsstands. It certainly has deterred us in the past, but we thought it was appropriate for us to address the topic of shopping. We did a lot of research with our subscribers and non-subscribers to get a feel for what people were looking for. Actually it was interesting to launch it in the summer—that's kind of a different time to launch. We seem to defy logic when we do some things. When we launched [print newsletter] MoneyAdvisor, there were a lot of financial publications that were shutting down. It was a very successful launch that has about 260,000 paid subscribers. ShopSmart was also launching at a time when a lot of shopping publications were closing down at the same time.
Kleman: They didn't go out of business because they were bad ideas. They didn't have the advertisers.
McKean: Not having the advertisers, in our case, turns out to be the real advantage in this climate because there's one person that you need to please and it's that reader or Web viewer. And if you do that, you have a business.
Steinbrink: You guys make it sound like it was smooth sailing. Truth be told, when we started to design this magazine, we thought it was going to be a men's magazine and as we went through focus-group testing we found out very quickly that men really like the detail that we deliver, but the women really need to get down to business and make quick buying decisions. They make the buying decisions around the home. So we went from thinking, okay, we are going to start a men's magazine to changing it to a women's magazine and thinking we were going to be competing with some of the sharpest, best magazines on the newsstands. That was a real challenge for us. Everything internally had to start to focus on time and focus for the women's section on the newsstand, and that went all the way through business planning, to editorial, to buying checkout pockets.
FOLIO: Can you be a little more specific about some of the challenges and some of the decisions you made as a result of those challenges?
Steinbrink: We realized very quickly that the biggest challenge for us was getting into newsstand checkout pockets. Consumer Reports really hadn't done a lot in that area, but we had done some testing. We really needed to develop a strong program at checkout to make this magazine a success. A lot of upfront investments, a lot of planning and a lot of work on the newsstand side to make sure the magazine was in position to be purchased by the target audience.
FOLIO: How have you reached out to new retailers?
Steinbrink: A few years ago, we made a considerable effort to find new retailers to really expand the distribution of the magazine. We worked closely with Time Warner Distribution services. That program took a little over two years to put together as we tested different outlets, and we're continuing to grow that program. It has been remarkably successful for us.
FOLIO: Describe how you build your covers.
Kleman: We test all kinds of cover lines. For example, you can tell an energy story a number of different ways. Be green, save the environment, or cut your own costs or here's a new fangled product. And what our readers clearly indicated was that when you save them money, that is the case they want. It's far better. That helps us zero in on the kind of information they want for any particular story.
McKean: A lot of our readers are looking for value, something to help them make better decisions. I always say one of the keys for our content is that people are willing to pay for it because we focus on helping them save money and make better decisions. As Kim mentioned, the research that we do is on every cover that we do every month. We have online focus groups where we test the cover lines and the images and everything out there. It gives us a pretty good feeling of what's going to work and what's not going to work.
FOLIO: How aggressively are you generating print subscriptions with the Web site?
Kleman: Not aggressively enough.
FOLIO: Well, you've determined that there's not a lot of overlap, but you may be comfortable with that because you are reaching people with the Web product you wouldn't normally.
Steinbrink: We actually are pretty surprised at how many online subscribers have a subscription to the magazine. If you go through the CR.org subscription process, once you've ordered the online subscription, your welcome e-mail offers a $12 introductory subscription to the magazine. We've seen over 20 percent of CR subscribers take us up on that offer.
Sateja: We've tried to get more people to have both products. About two years ago we probably only had about 300,000 overlapping subscribers so it's been working well, to double that amount in two years.
FOLIO: And you're comfortable to keep going at that rate?
McKean: Well, it depends on the marketplace and what the readers are interested in. We'd like people to have all of our publications, but realistically they are going to pick the ones that fit their needs the best. Then you have the people who prefer the Web for a different experience who are research oriented. There are people who certainly enjoy the experience of having a print publication they can use. They've been loyal subscribers for a long time. We have a huge base of eight million combined subscribers, but our base of previous subscribers is quite large and they come back. So it's not like people stop subscribing.
Kleman: And our job is to keep them. We have to figure out how to make this magazine relevant to people who already have their house and redid their kitchen five years ago. It's getting supermarket products in there and it's telling people how we do our testing. Or what is the major difference between the top-rated TV that scores a 98 and the bottom rated TV that scores a 22. What is that difference?
We're currently going through a redesign of Consumer Reports and the idea is to continue to deliver great content, but there will be a little more of the story of Consumer Reports itself. I just think it's really interesting about how we do our testing. It's very different from what any other publication does. And it goes a long way in enhancing the idea of building community.
For decades our research teams have been sending out a census to eight million people. We ask what they own, what specifically has broken, if they've needed a major repair. And from that we are able to give our readers very specific brand information. Forty thousand readers tell us which toasters works best for them. And it's comical in a sense, but it's powerful. And our job is to just elevate that and tell people 'Hey, this is a community of researchers helping you.' I think that's pretty powerful.
Sateja: We invest a lot in generating content. So if our revenue base for all the publications is $208 million, we invest about $52 million a year in our editorial. So we put a lot of investment in generating original content that can't be duplicated in the marketplace. The tech division alone is over $24 million. We buy all the products we test. We have more than 180 shoppers that buy the products anonymously and try out the product. We invest a lot in trying to make this content work for the consumers the best we can.
Kleman: I think that's the whole secret behind the success—we have original content to sell and everyone knows that. If we didn't, we'd have the same story as many of the other publications today.