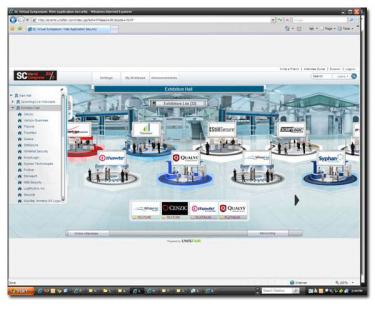 In December 2008, Haymarket's SC Magazine launched its SC World Congress conference and tradeshow (dedicated to IT security), just at the time when physical events began feeling the effects of the economic downturn. While the event attracted 900 people over two days, it still fell below its goal.
For the second event in 2009, SC Magazine was looking at ways that it could enhance the experience for both time-and-budget stressed attendees, and for exhibitors. The week after the SC World Congress physical event, the magazine introduced a series of monthly virtual events designed to extend the reach of the tradeshow's content—and extend its life for exhibitors.
"Over the course of the last two years, we've witnessed the increasing challenge of getting people out of the office," said Gill Torren, the magazine's vice president of sales and associate publisher. "We want to bolster physical event sales so we're offering lead guarantees with the virtual shows. We also want to get more exhibitors into the physical environment. We were getting maybe 10 or 11 sponsors with a virtual event but with a physical event, we had between 50 and 70 exhibitors and sponsors. We wanted to offer them something more by providing them with the opportunity to continue to foster the relationships they built at the physical event throughout the year and also to allow them to meet people who couldn't get out to attend the physical event."
SC Magazine now offers two types of virtual programs: a shorter "virtual symposium" that lasts an hour to three hours, and a more comprehensive five- to 10-hour event spread across two days.
Each virtual event features a "networking lounge" as well as instant message and e-mail chats after each session that are moderated by edit staff. Some exhibitors offer chats and video at their virtual booths, something Torren wants to see more of. "If exhibitors are active, they can pull in thought leaders and say, 'Hey, I have John Smith in my booth between 1 p.m. and 2 p.m.,'" he added. "If it's a known evangelist, attendees will visit the booth in large numbers and engage. We're getting as many as 700 qualified attendees in the virtual environment at any one time so we actively encourage exhibitors to approach these events in the same way they would a large physical exhibition."
Revenue Model: Sponsorships, Cost-Per-Lead
SC Magazine initially sold SC Congress exhibitors who paid $5,500 to $11,000 for a physical booth a presence on the virtual events for $3,000, which included 100 guaranteed leads per year. With its first four virtual events, SC Magazine has already delivered on the lead guarantees for each exhibitor.
As a result, SC Magazine is now re-evaluating the revenue model and
moving toward a cost-per-lead system, with a cost of $45 to $65 per
lead. "We know now we could probably generate 300 leads per booth,"
Torren said.
The magazine works with virtual event vendor Unisfair, which collects leads and is able to track behavior. Unisfair recently launched Version 9 of its Virtual Engagement Platform, which it says simplifies the steps in creating virtual events and offers an Engagement Index, which helps marketers rank leads based on the level of activity and interest of each attendee. "Attendees are largely coming from our existing highly qualified database, so we're already fishing in a pretty clean pool," said Torren. "We scrub the leads to ensure that they don't include vendors or others that are not qualified."
Virtual events are one of SC Magazine's fastest growing revenue streams and Torren expects them to generate about $650,000 this year in 2010. "That's a quarter of our overall online revenue," he said. "It's a big percentage. This can be very profitable when done right. We all paid the price of putting on these events and learning how to do it. Now we're seeing the returns."