How U.S. News & World Report Is Finding New Ways to Help You

Data, info and taking lessons from the B2B world.
U.S. News & World Report struggled to regain its footing after the recession as print advertisers, readers and eventually the magazine itself, disappeared.
The brand known for its rankings of major consumer products like colleges, cars and health care, is recommitting to consumer advice in the digital age though. U.S. News has launched four tools in the past year aimed at matching potential purchasers with the right suppliers. It also announced an expansion of the effort on Thursday.
U.S. News has launched a Money Products team—a vertical aimed at helping consumers with financial planning, similar to its Health Products team started last year—and hired Kim Heneghan to be general manager of the group. Heneghan had been the online general manager for Hanley Wood, a B2B publisher in the construction and real estate markets. Kim Castro, editorial lead behind the consumer advice group was also promoted to executive editor of the division.
"We're building on what we've been doing well for the last decade and the Internet has been great for our expansion into new areas of consumer advice," says Bill Holiber, CEO of U.S. News. "Users are highly engaged with our consumer advice journalism and that sort of engagement is attractive to a broad range of advertisers."
Interactive tools like the Doctor Finder and [Financial] Advisor Finder merge user-friendly utility with about a million new pages of information. Those pages, sorted by areas of expertise and geography, offer highly qualified ad inventory. And they're drawing eyeballs. Overall monthly uniques are up more than 20 percent over last year, now sitting at 25 million.
"We have a very motivated audience," Holiber says. "They are educated, in-market consumers looking to make important decisions, and that pairs nicely with the needs of various kinds of companies."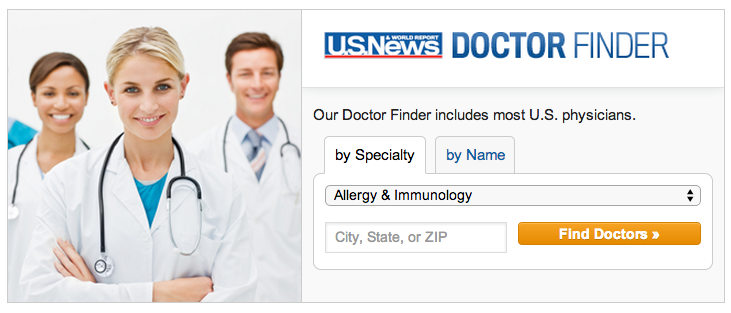 Consumer advice isn't a new facet of consumer-facing media—especially in the age of personal electronics—but comprehensive data and information services like U.S. News's supplier databases are. They've traditionally been small, but profitable staples of B2B media, generating margins upwards of 19 percent, according to a Folio: survey from earlier this year.
They're foreign territory for most consumer publishers though, and Holiber believes it's a missed opportunity.
"A lot of consumer media companies just don't get the value of data-rich information, they tend to be too news and text driven," he says. "We've been fortunate that data has been part of the company's DNA since we were founded 80 years ago. We started the Best College rankings 30 years ago, and that has provided the basis on which we've built this large and growing franchise. We've learned a lot from the B2B world, to the point where we are now producing our own B2B data products, including ones for colleges and hospitals."
Meet the Author
---