How Tiger Beat Pulled Off its 3D Issue

More than half of magazine's pages include effect.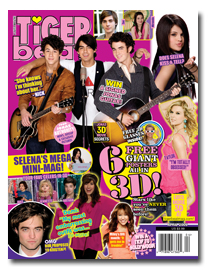 More than half of the pages in the March 3 issue of teen pop culture magazine Tiger Beat feature 3D content.
The main feature is a photo shoot with music group the Jonas Brothers. The magazine hit newsstands a few days after the group's movie, Jonas Brothers: The 3D Concert Experience, was released in theaters. "There is no official tie-in with the Jonas Brothers movie," Laufer Media owner and president Scott Laufer told FOLIO:. "We had been talking about doing it for a while and decided to pull the trigger with the release of the movie."
The 3D effect was accomplished by utilizing two cameras shooting at the same time. "Our photographer used two cameras, set a few inches apart, to capture images simultaneously," Laufer explained. "Those two images were then composited together, shifting red and blue channels in the RGB photo, to create the three-dimensional effect."
For other photos or images in the magazine that weren't shot this way, Tiger Beat, with help from American Paper Optics, shifted the channels manually to create the anaglyph, or 3D image.
"In house, we had to learn what shifts in color created the illusion of something being in the background, middle ground and foreground," Laufer said. "Not all images lend themselves to a 3D look. Images with solid, flat backgrounds do not lend themselves well. Images that have a lot of depth and lot of various pieces work better.
"Blues can turn to black, as do some dark reds and magentas," Laufer added. "All colors tend to turn dull so the designers need to take this into account for the photo shoots."
In addition to print, Tiger Beat has posted certain 3D photos online and is developing a 3D application for the iPhone. "It's something we're playing with right now," Laufer said. "We're having some fun trying to come up with something for the kids down the road."
Meet the Author
---