How Those Editors-Turned-New Media Entrepreneurs Are Doing

A roundup.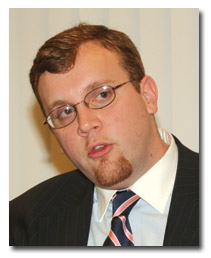 So far, 2008 has been the year of
going it alone. We've seen a myriad of editors and assorted big media executives venturing
out to pursue dreams of grandeur in their very own new media startups.
To review: Harry McCracken stepped down as PC
World editor in May to launch Technologizer.com; Rieva Lesonsky, former
Entrepreneur editor, left to begin SMB
Connects; former New York Times Hollywood reporter Sharon Waxman left the
company to launch something called the Wrap News, an entertainment Web site; ex-AOL
exec Lewis Dvorkin has been quietly working a news aggregation site; and Prescott
Shibles [pictured], new media vice president at Penton Media, left to begin his own
startup, Vital Business Media.
But since their departure from the "traditional
publishing" world, where are they now and what can we expect from their new
ventures?
Shibles, for one,
told FOLIO: this week he has raised "less than $5 million" in angel financing
to get VBM going and continues to look for additional financial partners. Once
the site goes live, he hopes to launch two more verticals by mid-2009.
While online metrics are only so
telling (and accuracy hard to come by), McCracken reported Technologizer.com monthly traffic "in the hundreds of
thousands of page views" in the first six weeks after launching.
Waxman's site, set to go live in January 2009, will use
the closing $500,000 that she acquired in the first round of funding for the
online presence in early August to get the ball rolling. Dvorkin also reported
receiving undisclosed early-stage funding for his news aggregate site in early
August.
And what can Rieva Lesonsky expect
from her startup venture? While still up in the air, the answer may soon be: legal
fees. After launching
SMB Connects, a network that puts small business together with government
agencies and organizations, Entrepreneur magazine filed a lawsuit
against Rieva, alleging that the former editorial director stole confidential
information – namely, its
franchise ranking concept, known as the Franchise 500. So much for imitation
being the highest form of flattery.
Meet the Author
---