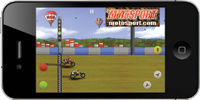 Publishers are launching iPhone and iPad apps on a daily basis (unless you're Bonnier, then it seems almost hourly). Many are coming from the usual suspects with deep pockets—Hearst, Conde Nast, Time Inc. etc.
However, one small enthusiast publisher was able to crack The Top 25 (for paid iPhone apps) in Apple's App Store in January by partnering with a dedicated developer and then leveraging its brand and an aggressive social media strategy to drive interest.
Morgantown, West Virginia-based Filter Publications, publisher of 65,000-circ motocross title Racer X Illustrated, had created its own mobile content apps in-house through App Maker, but saw a bigger opportunity for combining its marketing reach with a game developer's technical expertise when president Bryan Stealey came across a computer game called Mad Skills Motocross.
"We'd been toying with the idea that a publisher and a developer would make a good team," says Stealey. "It's such a challenge for independent developers to get attention in a store with hundreds of thousands of apps, and we don't really know how to make apps."
Filter reached out to the developer, Turborilla, which had advertised the game with Racer X, about offering it on the iPhone. "They had no budget and no way to get the word out—we did," says Stealey. "We have our own reach with magazines, Web sites and social networks."
Racer X has 215,000 Facebook fans and 15,000 Twitter followers and the publisher organized a "street team," giving a group of active posters and followers who were demonstrated fans of the brand a look behind the game development and encouraging them to spread the word. The game also made its way into the hands of pro racers and celebrities such as rapper-turned-racer Vanilla Ice and Sirius radio personality Jason Ellis, and includes a "share" function that links back to Twitter and the download page.
The game debuted January 10, selling for $1.99. It hit #1 in the racing category and fluctuated between #19 and #25 in the Top 25 paid iPhone apps (it was also #41 in top grossing iPhone apps).
Turborilla owns the game and Filter acts as the marketing partner. While Stealey declined to share specifics, he says Filter receives a fee based on the revenue generated from app downloads. "The key is establishing a match with your brand," says Stealey. "We see this as significant revenue stream going forward."
 
Apps as Travel Guides
Meanwhile, Marty Martin, director of Web strategy for Roanoke, Virginia-based regional publisher Leisure Publishing Company, says he's working with a developer to build a series of apps for Leisure as well as outside clients. The initiative will be combination of proprietary and outsourced product development. "Moving to mobile is the next logical iteration for us," he says. "We're in the process of partnering with an app developer who's put a framework together for some travel guides. We're using different types of revenue strategies. Some would be pay-per-download, some in-app advertising."
Martin says the app production for outside clients will be folded into the company's custom publishing operation. Prospects include convention centers and tourism bureaus.
While the company publishes three regional magazines, the bulk of its revenue comes from travel and tourism publishing. Partnerships are already in place with a variety of destinations throughout the Southeast, Martin says. Apps would include guides to local tourist destinations, restaurant guides and local history.
Martin ballparks the cost of development as "close to five figures." While the apps haven't made it to the design stage yet, he's already conservatively forecasted revenue potential in the $100,000 to $250,000 range based on four apps in one fiscal year.