How SI's Swimsuit Issue Sells

Also, magazine to debut on Letterman—why not CNN?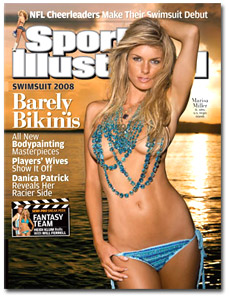 It's that time of year again—for sports fans, the dark and gloomy vortex between the Super Bowl and March Madness. For Sports Illustrated, it's Christmas: the swimsuit issue, the magazine's annual predictably overhyped—and just as predictably, controversial—run through the media machinery.
In terms of advertising, marketing and newsstand sales, the swimsuit issue is the Super Bowl for Sports Illustrated. This year's issue, with Marisa Miller on the cover, hit store shelves today, and—eschewing some level of corporate synergy—will get its official debut tonight on the David Letterman show. Why not, say, CNN's American Morning? "It was logistical," an SI spokesperson says, noting that SI's ad party is taking place tonight in New York City, and that the guest list is over 1,000 strong.
Here's a quick look at how SI's Swimsuit Issue has fared on newsstands over the last five years:
YEAR
DATE
SINGLE
COPY SALES
12-MONTH
AVG.
AD
PAGES
COVER
MODEL
2007
Feb. 16
1,060,000
87,043*
109.95
Beyoncé
2006
Feb. 17
1,152,275
86,173
111.00
"All-Star"
Cover
2005
Feb. 18
1,083,827
85,548
106.87
Carolyn
Murphy
2004
Feb. 13
1,563,694
100,941
112.50
Veronica
Varekova
2003
Feb. 25
1,216,495
100,626
113.00
Petra
Nemcova
* First half average.
SOURCE: ABC
Meet the Author
---