How Regionals Differ From City Magazines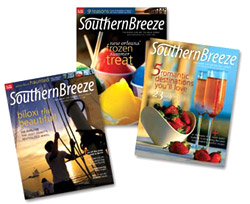 As editor-in-chief of a regional magazine-Southern Breeze-I get a lot of other regionals across my desk that I never knew existed. And while all magazines everywhere-with the exception of InStyle and most of the other ladies books-are fighting for ad dollars, our challenge seems wholly unique, even in the regional realm.
Southern Breeze delivers "the good life on the Gulf Coast" so we cover the tropical South along the Gulf of Mexico from Lake Charles, Louisiana to Apalachicola, Florida. Editorially, this is great because we have a large swath of the Southeast to feature in every issue. From an advertising standpoint there are significant challenges. What is a benefit for the writers-an entire region to cover-is a detriment for the ad salespeople. Why would a restaurant in Baton Rouge buy a full page ad when the magazine only covers a portion of its audience?
We also can't do a lot of the types of stories that city magazines do each year like the "Top 10 Doctors," "Top 10 Lawyers" et al because we're not exclusive to any one city. What is a boon to most city magazines would be ill-advised for us. Add to this conundrum the fact that we compete with other city publications and you'll find the print advertising dollar stretched very thin. There are only a few regional mags that have pulled this off successfully that I can think of, most notably Southern Living (duh), Midwest Living and Sunset.
As spectacular as these magazines are, none of them had their entire coverage area gutted by a spate of what we down here call "tropical occurrences." Hurricanes Katrina, Ivan and Rita gave us all a bit of a beating physically, financially, and emotionally. Sure our advertising dollars dwindled during that time, but we bounced back pretty quickly. We're not just the little regional magazine that could, we're the little regional magazine that does: ad dollars, competition, and Mother Nature notwithstanding.
Meet the Author
---