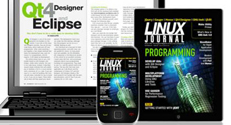 The number of magazines folding or going digital-only just within the last 72 hours has us flashing back to 2009.
Linux Journal–which launched in 1994 serving the Linux computing market–is yet another publication whose August 2011 issue will be its last in print. "The big computer-industry trade magazines from the '90s have either disappeared or gone digital," writes senior editor Doc Searls in a note to readers. "Of the big three publishers, only IDG is still intact, but relatively few of its old magazines are still in print [EDIT NOTE: IDG is quick to point out that in the U.S., only InfoWorld went digital-only, while Computerworld, CIO, Network World, PC World and Macworld remain in print]. We survived while others failed by getting lean and staying focused. But the costs of printing and distributing continue to go up. We could keep publishing in print if we could raise the number of advertiser pages, but we don't see that happening. What we do see is a core readership that has stuck with us, along with Linux, for a generation. You, our readers, are at the heart of Linux, and always have been. We want to keep that heart beating."
Beginning with its September issue (#209), all subscribers will be offered the Linux Journal Digital Edition, which features a PDF version delivered via e-mail. Linux Journal also says it will have custom iPhone, iPad and Android apps ready by September.
To its credit, Linux Journal is making the discussion around its new strategy public by setting up forums for subscribers and non-paying readers.
While the forum for non-paying readers hasn't provoked much response, the subscriber forum is blowing up. True to form, it's primarily the people who have a problem with the decision who are posting (one reader also set up his own LinkedIn poll saying, "Maybe if the LJ staff sees a graph of their reader's opinions they will realize how wrong they are").
Still, these posts can give other publishers a sense of what they might be facing if they're considering a digital-only jump (and what they may need to do to make it palatable for their audience).
Even a tech readership like LJ's seems reluctant to give up its print.
"I don't have much to say other then I am completely disappointed with the decision to go all digital," posts one reader. "Just because we're techheads, doesn't mean we all walk around with friggin ipads or iphones and read pdfs on the crapper."
Others rebel against the price of a digital subscription.
"This is ridiculous, why would I want to pay $30 for a digital subscription," writes another reader. "I can already view practically all the issues online (all but the last 2). So why would I want to pay to get some silly pdf file which will likely still be full of ads. Frustrate customer, will not be renewing without print.

P.S. HOW is this a benefit of digital over a physical magazine? 'Off-line reading: you can download one article or the entire magazine and conveniently take with you. You also can print any pages you want.' I can take my whole magazine with me as it is, no need to download anything."
Much of the frustration comes from the current digital format.
"PDF has never been a proper digital format for delivering the magazine. . ." writes one reader. "'Enhanced Digital Edition'? An even worse insult to a paying customer. It's like all the similar bad imitations of print magazines being tried on people in the last 10 years. . . A dedicated app? Yeah right, just what I need. Another app that tries to replicate something that can be achieved without one. . .Just give us a proper ePub version already. I for one do not want an imitation of a paper product. I want something done in a format meant for the eReader / iPad it's going to be read on. In the FAQ you mention more features in the future like interactivity and video. These are things that can be accommodated by a format such as ePub and it can be used by the users in their favorite reader / management apps. It is a format specifically meant for this purpose. Bottom line. PDF or 'EDE' are not options. It's either ePub* or I'll walk."
Another is a big fan of the content, but not the format:
"While the articles in Linux Journal are excellent, and well worth the subscription prices, the total conversion to 'digital media' negates the worth of the magazine (to me) to the point where the publisher would have to pay me to read it in a digital media format. I paid for a hardcopy magazine, and will not accept a digital-only version."
However, others are welcoming LJ's jump to 100 percent digital:
"I for one applaud your decision to go digital," writes a reader. "Where is it written that we must have books and magazines on paper? Time for a change, and I believe this is a change for the better — less wasteful, easy to search, active links to resources, bookmarks, etc. And as our digital technology advances, it's only going to get better yet. Your Enhanced Digital Edition looks great! And the pdf, too. It would be nice to have in epub format as well. Keep up the good work!"
Linux Journal seems to have a passionate audience that's heavily invested in its content. Going forward, the publication's success will depend not just on going 100 percent digital but offering a digital version that works. Just as some consumer publishers had to learn that a successful iPad app in these early days is more about quick downloads and easy navigation than self-indulgent design and spasm-inducing rich media, b-to-b publishers have to understand that good content won't excuse a bad reading experience for most readers.