How Publishers Are Reacting to Facebook's New Features

Post F8, Bonnier and Complex Media talk about new opportunities.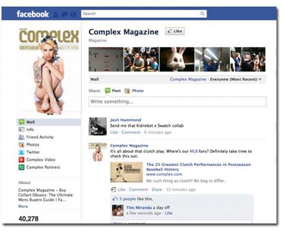 Last week, Facebook rolled out several new features during its fourth annual F8 Developer Conference that could change the way the magazine industry interacts with the social media platform.
As initially reported by FOLIO:, the expanded Open Graph technology integrates user activity within an app directly to a user's Timeline. If a magazine app integrated Open Graph with its product, when a user reads an article or interacts with an app would show up on a Facebook user's profile.
The Ticker, a lighter version of the news feed that shows activities, commenting and liking, is also a new change. When a user brings the mouse curser above a friend's recent activity in the Ticker feed, a canvas app is opened over the user's home page—enabling someone to read full articles without ever leaving Facebook. The Huffington Post, The Guardian and The Economist, among others, have already adapted a canvas app.
"I think anything that is helping to surface great content is great for Complex," says Scott Cherkin, executive vice president of product and business development for Complex Media Network. "There's been so much noise, people's walls are crowded and search is a crowded place to break through. To the extent that Facebook can help surface the most impactful and trending stories of the day that are really going to attract a user's attention, I think we win in that optimization."
For Complex Media Network, which has over 70 properties in its portfolio, including Complex magazine, the new Facebook features need to be integrated with caution.
"The Timeline is interesting," says Cherkin. "I think we have to evaluate how our content can create a storyline that can be leveraged. The average user is staying with us for over 12 minutes per user session. To the extent that those signals can appear in someone's feed more readily through the stream, I think that's very interesting. Facebook seems to be trying to figure out ways to get more signals about a consumer's activity and to surface that—that can be a big win for publishers."
Cherkin adds that the publishers that are creating the most engaging content or community activities in the publishing space may have the biggest gains from the changes.
Alexis Costa, general manager of digital operations for Bonnier Technology Group, also thinks the changes are compelling.
"We're excited about the updates," says Costa. "We're looking at this as a new opportunity to interact with our audience and provide more valuable content to them. We're also looking to see how they're going to react with the changes because we need to be on-point with how they consume media. The changes have to be organic and sit with the brand—in a digital world, things are always changing but with all of that change some things have to remain consistent and that one thing is we have to be true to is our brand, we can't be something that we're not."
While Costa says there's no one thing she's particularly excited for with this announcement she did say that the Timeline feature could be very interesting for Popular Science.
"We have a lot of brand equity and brand heritage there—it's been around for 138 years," she says. "It could be an exciting opportunity to interact with Popular Science in the past, present and possibly even future. There might be something fun we can engage with that."
Currently, Popular Science has a partnership with Google to archive its older issues. Costa says the new Facebook devices may be an opportunity to integrate that content on the platform.
"Facebook is our third biggest traffic driver behind direct navigation and search," says Cherkin. "But we believe that our user and content is best served in a Complex environment and the same goes for our publisher. When we look at Facebook and as they change their strategies over time, it will be interesting to see how much content they encourage to be consumed within their walls. For a long time we've seen Google, who was moving traffic to third parties, is now moving traffic to its own sites. We have to wonder what that means for publishers long term and their monetization strategies and their intellectual property which is built around their audience over time. We think publishers ought to be cautious in how much goes within the [Facebook] walls versus what they keep on their own sites."
Meet the Author
---