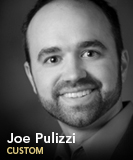 This question comes up all the time. In publisher roundtables and networking sessions, it's always a whispered question, with very few forthcoming answers. Everyone wants to know how other publishers are pricing their stand-alone custom projects, but no-one wants to share.
Pricing is just a set of formulas—nothing more, and not much different than other service industries. That said, the key to successful pricing is a clear understanding of the value you bring to the table. Once you understand that, the rest falls into place. Price your profit into what has the most value for the customer. If your ultimate value is content, that is where you should be making your money. Design, Web development, integration, turnkey execution—same thing. If you are bringing an audience to the table or a brand for co-branding purposes, charge for that because that is most likely where the client places the value. Don't try to make your money on what your customers can get cheaply and efficiently in other places.
Six years ago when I was at Penton, we used to charge a significant price tag for custom Web development. Back then, Web development was expensive. It was also hard to find developers that understood the art of online custom publishing. Helping our customers with the technology was a great value, and we charged them accordingly. Today, technology is cheap almost across the board. The value isn't as significant as it used to be, so the pricing must also be in alignment. That kind of mentality must exist in all your custom products.
Shoot for 15 Percent Profit, Minimum
Okay, now let's get specific. A 15 percent net profit on any project should be considered a minimum. That means that after all costs, overhead and commissions are taken out, if you're not making at least 15 percent, you're going to have problems with the business model. A profit of 15 to 20 percent ensures that your company is at least making money in the custom business. Consider that the minimum. Quite a few custom publishers open up their books for clients to show them, line-by-line, what's being spent and how much profit is being made. I believe this kind of transparency will become more the norm in the years to come.
Project Versus Commission Pricing
A majority of custom publishers succeed with project-specific pricing versus commission-based agency-type models or even a monthly retainer. Due to the complexity of custom projects, as well as the flexibility needed as the project evolves, pricing on a per-issue or per-project basis seems to work best for customers and publishers alike. As projects fall out of scope, hourly rates for project management, design, editorial and Web development should apply. If you're working on high-circulation print projects, consider a "cost-per-piece" direct marketing model. Sometimes 78 cents per piece is easier for clients to swallow than $780,000.
Most custom publishers strive for a 35 percent gross margin (not including overhead or pass-through costs) on print projects. Higher-circulation custom magazines and newsletters may require much lower percentages, as custom publishers are limited in their print-line markups. Web projects, such as microsites, e-newsletters and Webcasts, generally see 50 percent or higher gross margins. As technology continues to get cheaper, these margins should more than stay intact, even with decreasing revenues.
The key to remember on both print and Web projects is line-item markups. For example, a publisher that develops a print publication with turnkey execution will place 75 percent to 100 percent markups (or possibly more) on valuable services such as project management, design and editorial, while production and printing may have much lower or no markups. The combination of these line items should result in a "reasonable" profit.
In presenting your pricing, the best case is to present a per-project or per-issue price. If the customer requires you to show line items, do so, but those line items individually should add up to a greater number than the final "combined" price. This shows your customer a discount for the "turnkey" process.
Joe Pulizzi is founder of Junta42 Match, a free online service for businesses to find content vendors. He is also co-author of the book, Get Content. Get Customers., which shows businesses how to create their own content marketing strategies. He can be contacted directly at joe@junta42.com.