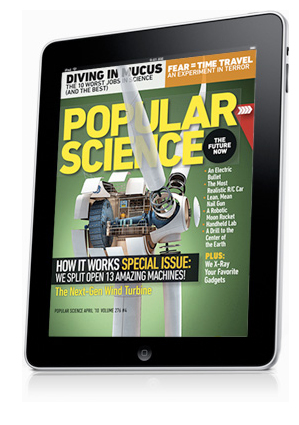 SEE ALSO: Popular Science's iPad App Launch Event
Magazine and newspaper publishers across the country spent the few short weeks between when Apple officially announced its plans to unveil a tablet e-reading device and when the iPad debuted to consumers this past weekend scrambling to develop an application so that their publication would be compatible with it.
Others, like Bonnier Corp., began imagining what its magazines would look like on tablet devices several months ago. The publisher partnered last year with London-based design firm BERG to produce the Mag+ project, which is aimed at solving some of the core challenges of translating print content to a touch-based tablet device.
According to Popular Science executive editor Mike Haney, Mag+ is built around a type of XML-based file format it calls MIB (the Mag+ Issue Bundle). MIB is a way to package all aspects of a magazine's content (text, images, etc.) in a standardized way so that the app, "which is essentially an MIB-reader, can render them with our unique functionality and architecture," he says.
With the Mag+ project already rolling, the PopSci team spent the 62 days following Apple's launch announcement crunching code and translating the fundamentals from Mag+ to create the app, called Popular Science+. The process was accomplished entirely in-house.
"The coding of the actual app occurred entirely between that announcement and the launch, a feat made even more impressive by the fact that it's not simply a one-off app but a platform that we can and will roll out to Bonnier's other titles in the U.S. and Europe, and license to other publishers as well," Haney tells FOLIO:. "It was always a goal to be there at or as close as possible to launch [of the iPad], and we knew that with the groundwork we'd laid and the excellent team we had, we could get there."
In terms of user experience, Popular Science+ was guided by the six design principles laid out in Mag+ which, according to Haney, is more about recreating the reading experience than translating content to a new device. Some of those design principles include "fluid motion" story-to-story navigation, reduced complexity to encourage the "lean back" reading experience, and advertising as content—in that "attractive advertising is as much a part of the magazine experience as the editorial content," Haney says.
"We've long believed that only with a full-color, large-screen, touch-interface device like the iPad could the magazine experience be faithfully recreated digitally, and we think Popular Science+ bears out that assumption," he continues. "So the challenge of where to begin the iPad project was less about 'How do we make the magazine on a tablet?' and more one of simply getting the code and functionality right for this particular device."
Haney says the magazine sees its April issue (the first on the iPad) as a "first step" in the design process. "We have additional features, including search and a special 'heated' mode that lets you clip and share content, that we plan to roll out in the next few months," he says. "And we hope the Mag+ platform will never be static but will continually evolve and grow based on our own ongoing learning and on feedback from our readers."