How ParentingWeekly Drove Online CPMs Over $30

Deal includes revenue share, partner fees.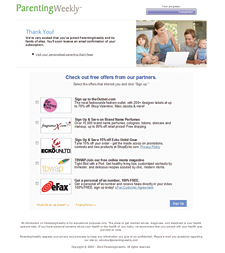 Ad networks are an easy way for publishers to generate ancillary revenue online, but the ubiquity of those same ad networks is also driving down the price of online advertising. Geo- and demographic-targeting is all the rage, but forcing ads on readers who haven't requested them can alienate an audience quickly.
ParentingWeekly, a registration-based online destination for expecting parents with an audience of more than 1.9 million, has teamed with Pontiflex, an e-mail and social acquisition platform, to leverage its sign-up advertising technology.
Users are able to sign up directly within the ad, while staying on the ParentingWeekly site. The Pontiflex-enabled ads appear on the registration "thank you" pages, sweepstakes sections and on the "Steals and Deals" page. Users can receive additional information on the products.
"When someone registers on ParentingWeekly, we provide a panel of different offers and the technology collects the data and sends it to the advertiser," says Zephrin Lasker, co-founder and CEO of Pontiflex.
The publisher side requires placing a piece of Javascript. "I'm no Web engineer but I could place the code in the page and get it up and running," says ParentingWeekly program manager Marlyss Bird. "It's transparent, we're not sneaking subscriber names in."
Participating Pontiflex advertisers include brands such as Kimblerly-Clark. Pontiflex operates on a cost-per-lead model. While it won't reveal the range, Pontiflex pays the publisher for the lead, takes a markup on that, and then passes it along to the advertiser.
CPMs have since rise to $31 on ParentingWeekly. "This is not displacing any existing placement, we're treating this as 'found money,'" says Bird.
Meet the Author
---