How One Publisher is Tweaking its Event Strategy and Predicting 10% Growth For 2010

Everything Channel is paring down legacy shows and building out custom events.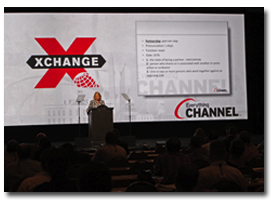 If there is one area suffering almost as much as print, it's events. While trade show revenue dropped 3.5 percent in 2008, it fell a whopping 20.1 percent through the first quarter of 2009, according to American Business Media. Reed Exhibitions (which operates independently of Reed Business Information), saw revenue and adjusted operating profits plunge 22 percent and 26 percent, respectively, in the first half of the year.
Nielsen Business Media vp of business development Eric Biener says events haven't fallen as much as print but when they do, it hurts more. "Even small declines have a huge impact on our infrastructure," he adds.
Hanley Wood enjoyed a record year for its events in 2008 but is experiencing significant declines in 2009 (two long-time executives, exhibitions group president Galen Poss and executive vice president Michael Green, left the company in June). However, it's 2010 that really concerns CEO Frank Anton.
"The real bad news is that the business in 2010 will take further hits in both exhibit space and attendance, and we're budgeting accordingly-almost all of the big shows will suffer double digit declines in revenue and earnings," he adds. "This will be the first time our shows have declined in a meaningful and painful way."
Everything Channel's Five Steps To Growth
Still, one b-to-b publisher saw growth from events in 2009 and is predicting 10 percent growth from events in 2010. "Based on the way people got squeezed this year, marketers are going into 2010 with compromised budgets," says Nancy Hammervik, senior vice president and managing director of Everything Channel Events. "One of the positive outcomes of a challenging market is that it causes you to think smarter. You get as tight as you can while evaluating everything you do."
Here are some of the steps Hammervik is taking:
1. Hosted Buyer/Seller Events: Much of the reason Everything Channel Events is up in 2009 is its hosted model, in which the publisher qualifies a very specific audience and guarantees deliverability by flying out buyers to meet with vendors. "The conferences are smaller but they deliver higher ROI for clients," says Hammervik.
2. Re-evaluating the Life Span of Legacy Events (including the Hosted Model) and Emphasizing Scale: Everything Channel is assessing which legacy events have run their course. "That's something we've never really had to do before," says Hammervik.
That includes scaling back the hosted model in favor of events that can produce larger margins. "The thing about hosted models is they don't scale," she adds. "The bigger they get, the more they cost. The way you grow is to do more-we went from six events to 24. The margin for hosted events is typically half your revenue. At first that sounds great: if you do a $2 million event, you make $1 million. But if you have a $500,000 event, it's $250,000 to just recruit and host."
Everything Channel has had a standalone channel for the Latin American community and did hosted events that put buyers and sellers together in Miami. "It's been five years, it matches the budgets vendors will spend on second or third tier emerging markets, but it requires a lot of energy and resources without offering a lot of return on margin," says Hammervik
Folding four events-two retail XChanges, the Latin America XChange and Project Portfolio & Management-into other events will save Everything Channel almost $4 million in expenses next year, according to Hammervik
3. Launching New Events
Still, Hammervik recognizes that saving on expenses doesn't equal generating revenue. "We all realize that with co-locating events, one plus one plus one will never equal three," Hammervik adds. "Vendors won't spend what they did at an individual event. If we combine XChange Latin America with the U.S. event, it may equal one and a half out of two. We'll lose 50 percent on revenue, but we're saving significantly on expenses."
Everything Channel is rolling out a series of regional events around the emerging category of "cloud computing." "We did something similar five years ago with managed services-people didn't really understand what it was about and we responded with road shows," Hammervik says. "We're rolling out at least six one-day regional events. We're being more cautious about not doing three-day events. That makes it easier for attendees and vendors to manage."
The publisher will also launch a series of events recognizing women executives in high tech, including a "Top 100 Women" channel. The program will include three events for women executives including a three-day conference and two one-day awards shows on the East and West Coasts. Everything Channel will also take a similar approach recognizing the Top 100 CIOs.
4. Custom Events Will Drive Half the Growth Next Year
Hammervik is making an aggressive push into custom event services. "We have been doing that on the side but we're making a significant investment next year in staff and marketing to try to make it a big business," she says. "We think half our growth next year will come from custom event services."
While marketers have increasingly taken on publishing duties for themselves-including events, Webinars, even magazines-Hammervik sees an opportunity for publishers to win that business back. "Vendors themselves have lost headcount and resources. Their core competency is making and selling technology, not doing events."
5. Complementing Live Events With Virtual Events
Many publishers have experimented with virtual events in place of their traditional live event this year (including FOLIO:). Everything Channel sees an opportunity in offering Web services around live events as both a preview and community-builder. "A month before the live event, the virtual event will be active," Hammervik says. "Sponsors can pre-qualify attendees and schedule live meetings with prospects."
Hammervik is looking at charging an additional $5,000-$10,000 to add virtual components to live event sponsorships. "If we have 100 vendors, that will be a significant revenue stream," she says.
Meet the Author
---