How One B-to-B Publisher Turned Social Media Into a Real Business

Moose River Media monetizes communities with ads, member benefits, research.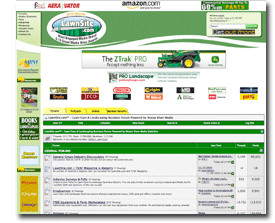 Moose River Media is a St. Johnsbury, Vermont-based b-to-b publisher serving the professional lawn and landscape, tree care, light construction, forestry and agricultural industries. While many independent publishers continue to struggle to reach that "sweet spot" of digital media accounting for 8-15 percent of total revenue, Moose River generates 20 percent of its revenue from online, driven in large part by monetizing online communities of a size not often seen (nor sustained) in b-to-b.
The social media effort is driven primarily by two sites: LawnSite.com and PlowSite.com. LawnSite, which was launched in 1999, today boasts 113,000 members, with nearly four million page views and almost 30,000 unique visitors each month, according to Google Analytics. "You can do a lot of things with traffic like that," says Moose River CEO Korry Stagnito.
The communities are primarily monetized through advertising. Sponsors pay on a monthly basis for specific key words. The sites feature a keyword notification system–similar to Google alerts–through which advertisers can buy a word, brand or term. "Every time that brand or term is mentioned, you get an alert," says Stagnito.
However, going forward, Moose River is developing revenue streams around social media that go beyond straight advertising, including member benefit programs such as group-buys for low cost health care coverage. The publisher is also developing an initiative called GreenThink that provides market research services to suppliers by asking members to provide input on vendor services. "We have all these members who are not shy about the good and bad of their businesses," says Stagnito.
Moose River has launched additional communities such as SportsFieldSite.com and NurserymanSite.com. Maintaining the communities comes down to close moderation–not to mention finding a market that fits, according to Stagnito. "We've launched a couple communities that failed, one size doesn't fit all," he says. "There is a fine line between moderation and censorship and we moderate the communities 24/7."
Mobile is the next big initiative. "The Green industry is highly mobile and people are in their trucks working from PDAs," says Stagnito. "Our mobile traffic is about 5 percent of the total site visitors to LawnSite.com and as that grows, we'll monetize it as well."
Moose River is also looking to monetize LawnSite.com's e-mail database through direct blasts and digital editions. "We consolidated the list database so we'd have greater intelligence on who these people are," says Stagnito. "While we don't think we can provide that data to our advertisers due to privacy concerns, we can tailor our publications to be more useful. We're gathering that data now and will process it and put it into play this year."
Meet the Author
---