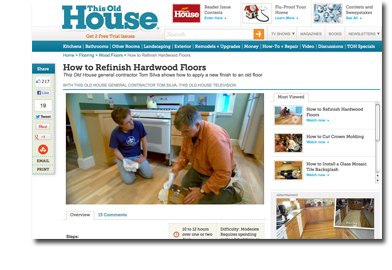 For a magazine brand like Time Inc.'s This Old House, video is clearly a valuable asset, especially since it started out as a television show. But as the brand has grown, the ways in which that video has been presented have changed over the years and more recently have expanded beyond the TV content and into more custom, shorter content.
The magazine has ported a bunch of its video content to YouTube, which had about 93,000 views from mid-January through mid-February. Video on the site itself—which attracts about 2.9 million monthly uniques—notched close to 450,000 views last December. About 54,000 videos were watched on a mobile device during that same month. 
Here, FOLIO: checks in with This Old House magazine editor Scott Omelianuk to trace the brand's video content evolution.
FOLIO: Has video taken on a new prominence for This Old House?
Scott Omelianuk: The broader answer is yes, it has. But it has always been prominent. That comes from the fact that This Old House started as a television show. And so there's always been an understanding of the power of video for the brand. Up until recently it's existed in half-hour long programming blocks.
FOLIO: Describe the progression to shorter segments.
Omelianuk: The first thing we did when I got here [in 2004] was to shorten the video assets considerably. We cut up a lot of our TV programming into simpler segments. Just as we got finished with that, everyone became comfortable watching longer-form video. Nevertheless, we had hundreds of videos that we had from the show and from the magazine's efforts.
More recently, as people's experiences with video became easier, we made sure we were gearing up for that. One of the first things we did, and this is a couple years ago now, we created a mobile site for the brand and made sure video was optimized for mobile.
 
One if the biggest changes was last fall when we redesigned the web site. We made sure video was surfaced much more. We had research that showed people didn't want to consume it just to consume it. It needed to be attached to something they needed, they wanted a bunch of content around that and a video to be a piece of that.
But now even that's changed a little bit. People are much more comfortable to consume video for video's sake. We never used to have a video channel, but now we do for people who just want to consume video.

FOLIO: How have you retained or repurposed the longer show programming?

Omelianuk: We did a big project where, like Hulu, you could watch the current season and past seasons of the TV shows. At the same time, we extended a handful  of seasons to YouTube. It was essentially an experiment. You can't argue with the scale of YouTube. As long as it doesn't cannibalize the brand, it makes sense to me.

FOLIO: Who watches what?

Omelianuk: The longer form is for the brand loyalists—it's a significant investment of time to watch a half-hour show.
The broader how-to stuff is meant for an audience that comes through search. Well over 60 percent of page views come from search. Those are people looking for a solution to a problem. We have video for the top five or six hundred home improvement problems. We hope to convert people based on that experience as well—we'll surround those segments with text and photos.
FOLIO: What new formats and programming are you getting into?
Omelianuk: Tool School is new to the site. We didn't have the resources for it until an advertiser wanted to sponsor it. It's a series of short, one- to two-minute-long videos—25 videos on a tool. These are the things you would know if you took the time to read the owner's manual.
One of the editors was the producer, one of the contributors was the 'talent,' the art department built the set and the graphics package. It's really a staff-wide effort when we do these things. I don't want to have to go out and hire producers, they don't know the brand that well. If I can train people here, so much the better.
Those are the kinds of video we think of as real consumable, you might come to Tool School and watch every one.
FOLIO: How is mobile influencing video usage?
Omelianuk: We see mobile video watching growing. There are a lot of people who, once they realize that they can have a good mobile experience, come back more and more. Broadly speaking, a lot of people are still skittish about mobile, but that's rapidly changing. Overall we have far fewer views of long-form on a mobile device, they will continue to watch that on a desktop. But if they can watch [the shorter content] while at the Home Depot or at Lowes, that's a huge win for us.
FOLIO: How are you determining how much video to produce for the site?
Omelianuk: We are less focused on volume per month than quality evergreen content that we know people really want. We don't want to waste a consumer or an advertiser's time. We want videos that have real value in our vertical. Some months we produce a handful of videos and others we develop a couple dozen, like the 25 Tool School 1-minute videos created for Ram.