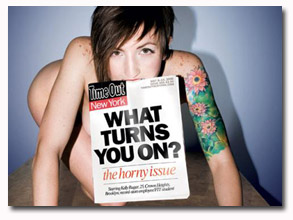 Here's an e-mail I received from Time Out New York's publicist, presented without comment:
From: [FLACK REDACTED]
Date: Tue, May 6, 2008 at 2:27 PM
Subject: I see naked people.
To: [REDACTED]

Feeling hot and bothered? So are we, and we've got the boners to prove it.

Check out Time Out New York's horny issue, now online, featuring dozens of naked New Yorkers and an interactive pole, I mean poll, where you can vote on who you want to strip next.

It's hot and sweaty outside, but you can get hot and sweaty at your desk. We won't tell.
It's worth noting that Time Out New York's former editor, Brian Farnham, speaking at the 2007 American Magazine Conference, said he had one goal in mind when putting together the 2007 sex issue, his second as editor: Cancelled subscriptions.
"If you do a sex issue and no one cancels, you're probably not doing your job," Farnham said.
It's also worth noting Farnham is no longer with the magazine.