SEE ALSO: Part One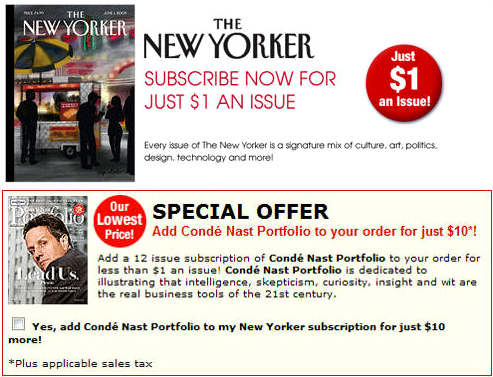 "If what we have isn't valuable and no one wants to pay for it, maybe we don't have a business."
–Jim Malkin, CEO, SourceMedia, at  the 2009 FOLIO: Growth Summit
Let's be honest for a second, put our egos aside, and admit one
thing: many magazines currently being published
could fold tomorrow, and few people beyond their respective mastheads
would notice.
Don't believe me?
Pop quiz, hotshot: Pick any magazine, first one that comes to mind, and check its subscription rate.
What's the most you would pay for a 12-issue subscription? If it's
less than $29.50, I'd argue that you won't miss it much when it's gone
because you don't place much value on its content. Further, if it's
being sold for less than $29.50, I'd argue that its publisher doesn't
place much value on its content, either, so why should you?
Most magazines are advertising platforms whose readers are defined
as "targets," valued in quantity over quality. When the advertising
revenue stream dries up, the magazine usually folds, readers be damned.
It's a business model that has ruled for
decades, built upon a smoke and mirrors combo of deeply discounted,
often unprofitable subscriptions, expensive newsstand distribution and
deceptive metrics long accepted as industry standards.
The Business Model is Broken
The most recent example of this flawed approach ("Why Portfolio Folded, And What It Means for Business Magazines") is Condé Nast Portfolio,
a much-ballyhooed entrant that attempted to muscle its way into a
crowded business magazine marketplace that arguably didn't need it,
doing it the old-fashioned way and failing despite having a "total and verified circulation of 449,005":
"Our timing proved to be terrible in terms of building a
big ad franchise from scratch," group publisher David Carey told the
Associated Press. "We saw where we are and where we want to be in 18
months. The gap between those two points was becoming bigger."

As a result of the closure, more than 85 employees will be let go…

Billed as a business publication with big, bold articles and dynamic
visuals, Condé Nast reportedly spent more than $100 million to launch
Portfolio in April 2007. The magazine watched ad pages plummet 60.9
percent during the first quarter, according to Publishers Information
Bureau figures.
With advertising revenue less reliable than ever—overall ad spending declined another 15.1 percent in Q1 2009 (Bernstein's Research)—this prolonged and brutal economic downturn will claim even more
magazines before the year is over, requiring the rapid development of
alternative revenue streams and pitting those still standing in an
intriguing, high-stakes game of "Outwit, Outplay, Outlast."
One of the seemingly obvious steps to take would be to raise the
deeply discounted subscription rates that were formerly subsidized by
advertising, sending a clear message to readers (and advertisers) about
the true value of the content being published. While most magazines
would undoubtedly lose subscribers, those they retained would be more engaged and more responsive to relevant
advertising and direct-to-consumer offerings.
Unfortunately, that decision brings up the one question so few
publishers want to answer, but can no longer avoid: how much is their
content really worth?
You Get What You Pay For
In part one of this blog series, I criticized Fast Company and Inc.
for their combined subscription offer ($15 for 10 issues of each
magazine), which effectively told me that my eyeballs are worth more than
their content.
Both are magazines I've picked up at the newsstand on occasion, at
full price, so I'm probably going to fill out that subscription card
because it's such a great deal, effectively 20 issues for the price of
3. Chances are good that between them, I'd buy three more issues on
the newsstand over the next year, so while I probably won't be one of
their most engaged readers, I really can't lose.
For most of their advertisers, though, unless they're in it for
brand recognition and have some long-term plan to engage me, I'm pretty
much dead weight, fluffing the rate base they're paying to reach,
usually via ill-conceived, short-term interruption campaigns.
As seen in the image above, the New Yorker and Portfolio were offering a similar combo that valued
the former at $1.00  an issue and the latter at 83 cents an issue. Both are/were
prestigious, award-winning magazines that aim/ed a bit higher than the
average editorial mission, but are/were priced as commodities instead of
the premium offerings they aspire/d to be.
Of the magazines I noted in my first post, I'd align them most closely with the Atlantic, which currently has a one-year, 10-issue subscription rate of $29.50.
To answer my own pop quiz, which magazines would I pay $29.50 for a 12-issue subscription?
The Atlantic: Probably; I already renewed for 3 years @
$39.95, before their redesign and rate increase, but if they once again
locked down their online archives for subscribers only, I'd consider
the higher rate.
Gourmet: I wouldn't, but my wife might; especially for a subscribers-only online database of recipes and book deals.
Garden & Gun: It's a great lifestyle magazine with a
literary bent, featuring excellent writing and photography designed
specifically for the printed page. It's more of a newsstand magazine
for me, though I've picked up every issue since I discovered it, but I
could imagine its core audience paying $29.50/year for a subscription
as long as the content remained top-notch.
Fast Company and Inc.: These are the kinds of
magazines people are thinking about when they say the Internet is
killing print. They're primarily advertising vehicles with solid
content, all of which can be found on their websites for free. They're
also not must-reads for serious business people like the Harvard Business Review which sports a $99/year subscription rate, a $16.95 cover price and still has a solid advertising presence.
Wired: It's a fun, somewhat self-indulgent magazine, but not at all a must-read for anyone. Also, why isn't it free?
Content + Context = Value

I'm a firm believer that content is king and context is its equally powerful queen.
I also believe the idea of individual blogs killing off newspapers
and magazines is an exaggerated notion that's making a lot of marketing
savvy individuals good money on the conference circuit, but doesn't
really hold up to scrutiny.
My definition of a magazine is pretty simple: a curated collection
of content, branded under a clear editorial mission and vision, and
packaged to serve a clearly defined audience or community according to their needs and preferences.
It's a platform-neutral definition by design that puts the reader
first, requires investment relative to its scale, and is a concept
publishers need to come to terms with as quickly as possible.
The magazine industry is at a critical juncture, and the decisions
being made now and over the next 12 months will determine who survives
as more than a hollowed-out shell to be sold to a competitor, if not
shuttered outright. An old boss of mine known for her turnaround skills
had a philosophy about allocating resources that I've come to embrace:
if it's not performing, don't be afraid to take it behind the shed and
put it out of its misery, and dedicate those resources to something
new, or to make something already profitable even more so.
I'd argue that it's way past time to take the ad-supported business
model behind the shed, and to start focusing on
increasing the value, true and perceived, of the content we publish.
More on that later this week …