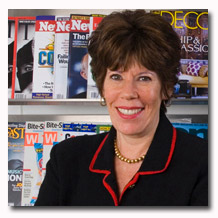 The Magazine Publishers of America generated $16.7 million in revenue in 2006, with CEO Nina Link [pictured, right] making $740,713 in total compensation, while American Business Media reported $6.0 million in revenue for that year, with CEO Gordon Hughes receiving $400,511 in total compensation. ABM also posted total expenses of $5.9 million, including more than $1 million on the compensation of officers, $642,000 on the compensation of other staff, and $587,000 on legal expenses, according to the association's Form 990, an Internal Revenue Service document for non-profits and charities.
The federal 990 forms, which are public documents and available through the IRS or the organizations themselves, disclose assets, receipts, expenditures, grants and compensation of officers. They offer a detailed look into the operations of the associations serving the magazine industry in a way not always indicated in annual reports, including specific data on how member dues are spent.
Legislative Affairs, Staff Compensation Dominate Expenditures
BPA Worldwide generated $17.6 million in 2006, the Audit Bureau of Circulations produced $30.5 million and the Western Publications Association generated $318,957.
MPA generated $10.7 million in membership dues in 2006, $2.1 million in professional development and events fees, $1.2 million in PIB dues and royalties, $206,000 from the Lifetime Achievement Awards and $90,760 from the Kelly Awards. It spent $1.2 million on legislative affairs, $761,100 on the American Magazine Conference, $484,800 on the Retail Conference and $709,000 on the National Magazine Awards. The MPA, according to the documents, spent $76,000 on legal fees, while BPA spent $95,000 on legal fees and ABC spent $325,980 on legal fees.
BPA spent $1.1 million on compensation of officers, while ABC spent $2.7 million and MPA spent $2.5 million.
Both ABC and BPA generated the vast amount of their revenue on audit fees rather than member dues, while at MPA and ABM, dues were the their biggest revenue source. ABC, for example, generated $1.5 million in dues and BPA produced $707,000 in dues. ABM, for its part, generated $4.3 million in member dues ($508,881 of that was from associate members). ABM also generated $603,231 in forum and conference revenue, and $570,735 in annual meeting revenue.
ABC CEO Mike Lavery was compensated with a package totaling $586,581 while BPA CEO Glenn Hansen's total compensation was $464,856.
Here are some head-to-head comparisons of the four organizations:
2006
MPA
ABM
BPA
ABC
Revenue
$16.7M
$6.0M
$17.6M
$30.5M
Member
dues
$10.7M
$4.3M
$707,402
$1.5M
Officer
compensation
$2.5M
$1.0M
$1.1M
$2.7M
Other
compensation
$2.9M
$642,000
$6.4M
$12.9M
Total
expenses
$16.5M
$5.9M
$15.85M
$29.6M
Legal
fees
$76,500
$587,000
$95,000
$325,980

SOURCE: IRS filings