Look at the list of winners for the annual City and Regional Magazine Association awards. This year's three general excellence magazines—Washingtonian, D Magazine and Honolulu—respectively featured a 1960s-styled illustration, a landscape photograph of the Texas prairie and a still-life classroom portrait on their covers when they were honored in May.
They, along with the rest of CRMA's membership, are local publications with distinct flavors. The city and regional sector remains one of the strongest in the industry, according to Mediafinder.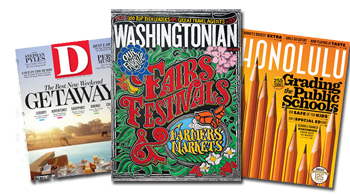 Meanwhile, AOL's Patch network used a single model—one editor, one salesperson and one platform—for each of its 900-plus markets at its height.
The hyperlocal experiment is still kicking, but AOL is considering other options at this point, according to the New York Times. Patch laid off more than 350 of its staffers and shut down hundreds of its network sites in August.
From Patch to Citysearch to Sidewalk to (the recently-restarted) EveryBlock, local journalism networks haven't been able to scale. Local markets need individual, customized management—each one is different.
Those regional idiosyncrasies are hard to define, but Nicole Vogel, president of Sagacity Media, which publishes 10 titles across the Western U.S., believes missing them has a definite impact.
She remembers when AOL's previous hyperlocal project, Citysearch, was considered a threat to her city title, Portland Monthly. She felt a lot better about the competition when she pulled up its homepage and saw the headline: "10 Great Ideas for Going to the Beach."
"Nobody in Portland calls it 'the beach,' it's 'the coast,'" she says. "There's so much in the lexicon of and by a city. No one notices it right away, but they notice the detachment even if they're not aware of it. It's like lighting in a restaurant. A lot of people won't know it's the lighting that's bothering them, but they'll know that they don't want to go back there because they feel uncomfortable."
John Palumbo, president and publisher of Rhode Island Monthly, carries the point further. Patch's cultural distance means that even can't-miss service features—things like "best of" series that are a hit for city and regional magazines regardless of the market—don't get the same traction they do with city and regional magazines. Even in the most cookie-cutter stories, local knowledge comes into play.
"They wanted a list of the Top 5 florists in town," Palumbo says, citing the experience of a former Patch editor who now works for him at Rhode Island Monthly, "but there were only three [florists] there. There was no regional insight."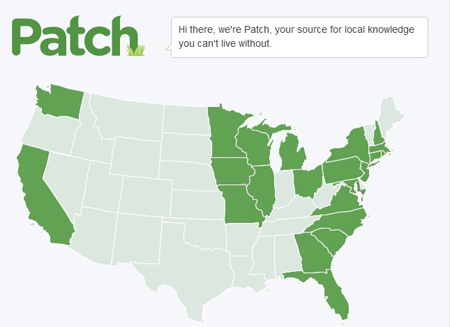 Solving Service Journalism
As local newspapers have seen editorial budgets dwindle, they've stripped away the pieces thought to be furthest from the core mission: delivering timely news.
Art, entertainment and lifestyle were cut as a result.
That's left a widening void for community service journalism, but Patch, by and large, has been unable to fill it. City and regional magazines have instead.
"City and regional magazines are the last bastion of long-form community journalism you're going to find in a local market," Palumbo says. "Whether it's a service piece or a profile or an exposé, you're not going to find that in a newspaper now. We appeal to the influential [players] in the market because we're not in the day-to-day news."
Even those city and regional titles that have taken on some of the reportorial role vacated by newspapers still feature service journalism at their core, he says.
Vogel agrees: "We've owned lifestyle. And it's only been bolstered as local newspapers have continued to diminish in importance and size. They've held onto newsgathering and we get to cover the arts and shopping and food in a substantive way. We used to do it in our print editions, but now we get to do it daily in our newsletters and blogs."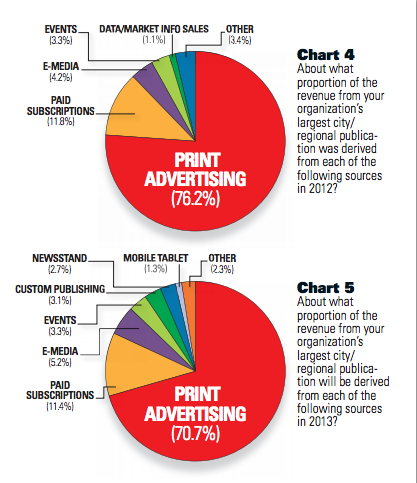 One-Size Doesn't Fit All
The print product offered by city and regional magazines is another key differentiator from Patch in editorial credibility, but it also means they can offer multiplatform opportunities to local advertisers. Even at the local level, media mix has always been a critical part of campaigns.
Multiplatform buys remain a relatively small part of the revenue pie for city and regional publishers, but they're becoming more common. Print advertising and paid subscriptions still account for more than 80 percent of revenue, according to FOLIO:'s 2013 City and Regional Magazine Survey. They made up close to 95 percent of revenue five years ago when Patch launched however.
Perhaps the more important issue at a local level is accommodating small-budget advertisers who might only be able to afford one channel buy at a time. Beyond the Web, city and regionals have a portfolio of print and events content Patch doesn't.
"The more I can play in print, digital, social media and event marketing, the more relevant I can be," Vogel says, "and the more people I can say 'yes' to."
Patch's scale has made big network buys a popular solution for national advertisers looking for local placement, Vogel admits, and it's one area hyperlocal sites have bested city and regional magazines to this point. Publications need both streams to survive though, especially in a challenging digital market.
…
Ultimately, city and regional magazine publishers feel they've been more in touch with their markets than hyperlocal digital sites like Patch have. Editorial tone does matter and it can't be faked; the needs of local advertisers can't be met with one solution.
From population concentration to competition from outdoor advertising to aggregate spending power, Vogel, Palumbo and Jonathan Moffly, president and publisher of Moffly Media, which publishes eight magazines in Connecticut, each rattle off differences that make their magazine businesses fundamentally different from those in another place.
Each of the publishers interviewed for this story believe scaling a single model across multiple markets is a fool's errand.
"The people going to a local site or a local magazine have pride in their communities," says Moffly. "And city magazines were built for people to take pride in their communities.