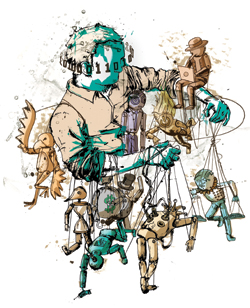 Most magazine publishers realize now that publishing isn't about all-knowing editors disseminating information to their groundling readers anymore, it's about establishing and fostering communities. Most know now that maintaining a Web site is not about uploading magazine articles each month and that anything less than daily updates is not enough. Most know they need to have videos, podcasts, photos and a truly multiplatform business where the Web site is valued at least as much as print. What still remains ambiguous, though, is how to make this happen—how to best organize and manage staff to execute a successful digital push. It can be especially tricky for independent publishers who don't have extra resources and overhead to play with. Here we take a look at some who are making it work.
Separate or Together?
When launching a new digital strategy, print publishers need to decide if they want a separate e-media "SWAT team," as Eric Shanfelt, executive vice president of online media at Aspire Media/Interweave Press calls it, or an integrated plan that incorporates everyone. Shanfelt and his team at Aspire chose the former, at least to start.
"Three years ago, when Aspire Media acquired Interweave Press, there was one Webmaster," says the company's CEO Clay Hall. "When we decided to make an investment in building out these hubs, we felt we needed to silo e-media from the rest of the organization or we would never get out of development."
"Up to this point we have been organized exactly as we should have been," adds Shanfelt. "We needed to have focus to get this thing off the ground. We finally reached that tipping point where we realized the segregation was becoming more of a liability than an asset." Now the company is planning to reintegrate e-media functions like marketing and content development back "into those groups where they really are the experts in those areas. And then my role," Shanfelt says, "will be overall strategic planning in moving us forward, working with the various entities of the organization to make them as successful at e-media as possible."
Ogden Publications, publisher of Mother Earth News and Utne Reader, chose an integrated approach, requiring all staffers to work "in most of our media," says publisher and editorial director Bryan Welch. "I think it's harder to implement your Web development plan in this way than with a separate Web team but I think it's more rewarding in the long run." Ogden's total online audience is now 10 times larger than it was three years ago, Welch says, and—at an estimated 6 million unique visitors per year—is twice the size of its print audience.
That strategy didn't work quite as well for Paste, though, according to president Tim Regan-Porter. "A couple years ago, editorial and marketing personnel handled online in addition to their print duties, and online definitely got the short end of the stick," he says. "Then we hired dedicated editorial for the Web site. As traffic and sales picked up, we shifted the business team to focus online. We now have a dedicated Web editor, multimedia team and new media marketing manager." Since then, traffic has increased roughly 112 percent, he says, and revenue has gone from virtually nothing to a "significant portion" of Paste's P&L. Now, the magazine may supplement its integrated sales team with dedicated online salespeople. "Despite increasingly integrated proposals, we're still finding the contacts, vocabulary and skill set in general to be so different that specialists are needed," Regan-Porter says.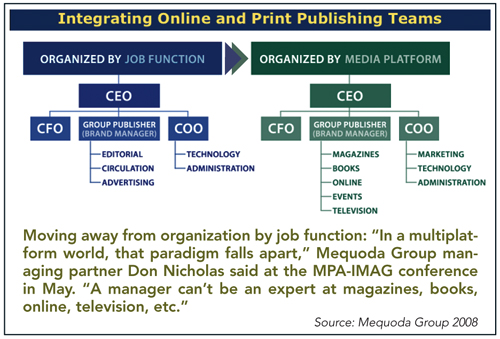 Redefining Roles
According to Welch, one of the hardest parts is getting his staff to redefine themselves as content aggregators and community builders. "Historically, we as editors have exercised sort of God-like powers over what is in our magazine," he says. "Now that we can watch traffic on the Web sites and survey our audiences, we are having to step back and admit that we have a lot to learn."
Ogden editors are now responsible for conducting and analyzing about 10 online reader surveys a week and are held accountable for the traffic they bring in. "The editors understand that their evaluations will include a big component related to the traffic on the Web sites they oversee," Welch says.
The other hurdle is convincing editors to do the "less glamorous" work of content proliferation—repurposing material from the magazines' archives into blogs, Web pages, e-books, landing pages, newsletters and so on. Ogden has a number of editors solely focused on this, which offers a wealth of "new" content for the Web site with relatively minimal investment in time and manpower. "We've gotten there because editors and writers love bigger audiences," Welch says. According to him, too many publishers don't speak "editor" fluently and therefore miss this opportunity. "The best method is to focus the editors' attention on building bigger audiences. Train the editors' attention on the total number of people in our community and making that bigger, and then show them the tools that are available to help us do that job."
The strategy is paying off. "Three years ago we were being coaxed into the new mindset," Welch says. "Today the new mindset is leading the charge."