4 Ways Independent Publishers Are Keeping Paper Costs Down

Publishers share strategies on managing materials for print products.
Despite enormous amounts of attention directed towards digital efforts in the magazine industry, many independent publishers still count print as their main business and most reliable source of revenue. As the paper market continues to fluctuate, publishers are finding new ways to keep the price of materials for their print issues at an affordable level. Here, FOLIO: shares the strategies and tips independent magazines are using to try to keep print issues in the black.
The Road Less Travelled? Printer Stock Paper
Working with their previous printer, Quad/Graphics, Nevada Magazine discovered a paper option often not immediately offered to publishers.
"Most printers have their own stock paper, which they use when people don't request a specific kind," says publisher Janet Geary. Quad produces 45 lb. stock paper sheets, which Geary found to be comparable to the 50 lb. sheets previously used for the in-book pages of Nevada Magazine. The stock paper contains more fiber content, and is not as "minutely manufactured", equating to an overall lower price. With a lower weight, the publisher also saves on shipping costs. Converting to the stock option saved almost 15 percent in paper costs for Nevada Magazine; now with R.R. Donnelley, the magazine still uses 45 lb. paper.
Domestic Brands Can Save 10 Percent
At Advertising Specialty Institute (ASI), publisher of Stitches and four other b-to-b titles, cutting paper costs meant changing paper providers. Haitham Barakat, executive director of production at ASI, says the publisher previously imported paper from a manufacturer in Finland for its magazines.
"As a b-to-b publisher, we're not into fashion or retail, so there is a lot of copy in our magazines," says Barakat. "The imported paper [M-real Galarie, just acquired by Sappi] highlights the images and has more of a matte finish, so it's easier on the eye."
ASI switched one of its magazines to a new supplier for its January 2011 issue, saving 10 percent in paper costs, as shipping was significantly reduced.
Taunton Signs Long-term Contracts, Pays on Time
At Connecticut-based special interest publisher Taunton Press, senior vice president of operations Tom Luxeder says paper purchases top over 10 million pounds a year. To accommodate that scale, the publisher negotiates long-term contracts to lock in prices. Contracts are typically put in place for 12 months.
Taunton also uses paper merchants instead of buying product from a mill directly; currently, the publisher is using Lindenmeyr and Gould as its merchants. "We are also open to purchasing from European mills," says Luxeder. "They have been willing to maintain some inventory for us in the U.S. as an insurance policy in case of shortages or problems."
Taunton has made it a priority to pay printers, and to pay them on time. In establishing itself as a reliable customer, Luxeder says merchants are more willing to work with them on pricing matters.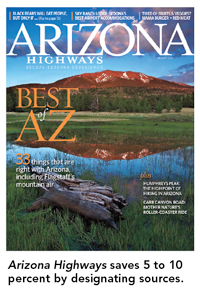 Arizona Highways Saves By Designating Sources
Arizona Highways designates the paper source, including merchant, mill and what paper the printer will use. While printers are not always amendable to this type of agreement, Arizona's Highways' long-standing partnership with their printing company allows them to maintain this type of input. Production director Michael Bianchi cites a 5 to 10 percent price improvement by "end user specifying."
Arizona Highways also relies on contracts to stabilize pricing, with negotiations set for six or 12 months. "We agree on the market and then lock in a price. If prices go down, they pass those savings on. If it goes up, I don't pay any more," says Bianchi.
SIDEBAR
Five Reasons Why Paper Prices Will Drop This Fall
Despite the decline of paper product use among publishers, prices for paper haven't fallen the way many hoped they would. Some say that this is the result of demand meeting supply, while others think pricing is about to change for the publishers' benefit. Terry L. Choate, president of Making Magazines, is among those who believe relief in paper pricing is imminent. Here are a few of his reasons why.
1. China is not buying much pulp right now, for a variety of reasons.
2. Mills are all suffering from over-capacity in all grades.
3. Recent attempts at a price increase have met resistance.
4. While print capacity has declined over the past several years, print demand has declined
by almost double.
5. Guess what else? If you haven't noticed, our own economy is severely suffering!
"I would say that an initial decline might be small – in the $1-3/CWT range. At this point there is lower demand and for this (and other reasons), there appears to be some overcapacity which should, at least initially, cap prices and likely drive them down," predicts Choate.
Meet the Author
---