How Gas Prices Affect the Newsstand

Could a dip in price per gallon mean a spike in single copy sales?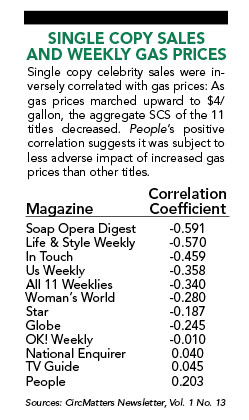 While stopping to fill my gas tank (I'm from Connecticut—I pump my own gas) for the Thanksgiving holiday, I couldn't believe the price—a "reasonable" $1.89 per gallon. While gas prices have been steadily declining nationwide from the huge spike this summer, I was still pleasantly surprised that it wasn't going to cost me $50 to fill my tank.
CircMatters, the circulation newsletter, recently conducted a study that found single copy sales of celebrity magazines are inversely affected by gas prices. The results of his study beg the question: do lower per gallon gas prices mean the resurgence of single copy sales?
By comparing raw data from the Audit Bureau of Circulations (and Energy Information Administration for gas prices), CircMatters discovered that as gas prices marched upwards of $4 per gallon earlier, aggregate single copy sales of 11 celebrity titles analyzed were lower.
Newsstand sales for three titles showed a much stronger negative correlation with gas prices than the others: Soap Opera Digest (-0.59), Life & Style (-0.57), and In Touch (-0.46). On the other hand, People, with its positive correlation, was less subject to the adverse impact of the cost of gasoline than other titles.
Meet the Author
---