How The Daily Meal Got 5 Million Uniques in 19 Months

In a word, it's content—and lots of it.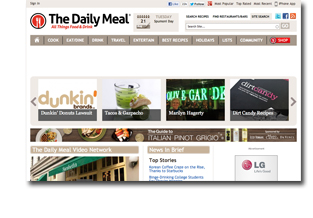 Spanfeller Media Group's The Daily Meal recipe site recently hit 5 million monthly unique users according to Google Analytics numbers, an achievement that has come in just over a year and a half. That stat has helped the site climb the food category traffic list to the number 8 spot, per comScore. The company's CEO, Jim Spanfeller, says that rapid growth has come primarily from the massive amounts of content posted each day.
The Daily Meal's editorial team of about 20 people produce more than 120 daily stories. Some of that content is also created by a network of around 700 special contributors—folks with a PhD in nutrition to celebrity chefs. But each person in that contributor network, says Spanfeller, posts only weekly or once or twice a quarter. The majority of the content comes from the in-house team.
Spanfeller is the first to admit that SEO has not been the secret to The Daily Meal's scale. Rather, it's a strategy of going wide as well as deep with the content.  "We haven't been that successful with SEO yet," he says. "We get a little over 10 percent of traffic from search."
SEO, he says, is a "big opportunity" and a tactic that sites that rely more on recipe content do better with. Instead, while The Daily Meal features recipe content, it also goes big on content about industry news, entertaining and epicurean travel, for example. "Putting that all together broadens our coverage," he says.
User-generated content is another, but not nearly as big, traffic magnet. Users are invited to register and submit their own food-related content. The submissions are incentivized through a rating system that's based on the amount of content a user creates, the amount of page views that content gets, the amount of times it's shared, the amount of times it's rated, and the amount of times it's rated well. As the user gets more points, they move to the top of the stack where they're noticed by site editors who then may feature the content on the homepage or in another prominent position.
That rating system also promotes quality, a characteristic that Spanfeller says is critical to longterm growth. And a side benefit of quality content is return traffic—35 percent of The Daily Meal's visitors are returning ones, he says.
Going forward, Spanfeller projects an aggressive 10 million monthly uniques by the end of the year and feels the site could eventually scale to 20 million, a metric that other sites that solely rely on recipes are currently getting. With The Daily Meal's deeper and broader content offerings, that kind of traffic should be well within range, the thinking goes.
Meet the Author
---