How the Writers Guild Strike Changed Variety

Hollywood's biggest story in 20 years forced us to address our Web strategy.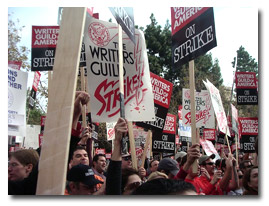 Soon after the Nov. 5 start of the Writers Guild strike, one thing became quickly apparent at Variety: This event was going to require a lot of enterprise. It's arguably Hollywood's biggest story in 20 years and needs extensive coverage, but frankly, how many times can you say, "They're still not talking and the whole town is anxious"?
Strike coverage became a mini-industry at the paper/Web site. Every day we have a news meeting to discuss the stories for the following day's paper: What goes on page 1, what can hold, etc.
But the strike meant regular sub-meetings: What's happening on the talk show circuit, what's going on in primetime, how are film studios changing their schedules—and, of course, what's the progress in negotiations.
For the first time, Variety commissioned surveys of readers. The overwhelming majority of readers were supportive but pessimistic, declaring that the strike was necessary—but doubtful that the writers would achieve their goals.
Our reporter Dave McNary covers the guilds, which usually involves elections, procedural stuff and awards. Now his beat became a 24/7 task and we reminded the other reporters that the strike wasn't just Dave's beat—it was everybody's.
This was basically a TV strike, so the TV reporters and editors immediately rose to the challenge. Everybody talked to picketers, tapped into old sources while currying new ones, and then pooled information.
This was the first Hollywood strike fueled by—and negotiated on—the Web. Information was disseminated quickly by both sides. In turn, Variety was forced to address our Web initiatives more wholly than we ever had before. Stories would break online, we would update them constantly, we would be on high alert all the time and we would staff up for possible news. It became a Web story first. A print story second.
For the first few weeks, it was exhilarating. There was electricity in the air because we knew this was a Big Story, affecting the way the business works, changing lives and livelihoods.
Editorially, it meant long, hard days during the holiday season—when, like most other newspapers, we would have had smaller papers, end-of-year news and routine stories. But now we had difficult weeks with up to four strike stories each day. Our front pages took on new looks. We packaged things like never before. Stories about agencies firing staff, restaurants losing business, potential award show cancellations. What usually was a time for Oscar buzz quickly became a time to make our issues more centralized on developed strike coverage. It was a textbook study in how one story can produce many angles.
After a few weeks of those long workdays (and often no rest on weekends), the electricity in the air started to short-circuit, and the great fountain of ideas gave way to tedium. Stories were well-reported, but sometimes a little disorganized (editors took care of that). At one point, we forced McNary to take a 48-hour hiatus.
Occasionally we'd have to tell ourselves not to concentrate solely on repercussions, but to go back to the basics and remind people of the issues—and numbers—involved.
The strike dovetailed with awards season, creating a de facto timetable: Will the strike be settled before the Oscars? And details on awards-show negotiations provided a metaphor for the bigger picture, since they revealed both sides' tactics, as well as the roles of other guilds—notably the Screen Actors Guild—and the ripple effect on other big-bucks aspects of the industry.
When the Golden Globes were in effect cancelled, we were able to see tangible effects of the strike. All of a sudden, everyone was affected, because parties, red carpets and fashion moments—each of which generates big bucks—were officially nixed.
In the 10 days leading up to the Globes, we were getting a new rumor every 15 minutes as Dick Clark Productions, the HFPA (which gives out the Globes), NBC and the WGA issued new info or negated rumors we'd heard.
As it looks like the strike is winding down, it's good to think that everyone will be back to work again. Now all we have to do is deal with the fact that our adrenaline is totally out of whack.
Meet the Author
---