How to Choose and Apply Social Media Tools

Publishers share the tools proven effective for gain in the social media sphere.


Since social media was identified as a relevant tool to the publishing industry, magazine publishers have devoted many resources and an abundance of energy to finding and implementing the best strategies to solidify a presence in the sphere. Here, Michael Grover, UBM TechWeb's director of content operations & syndication, and Patricia Cesaire, the director of digital PR & marketing with Black Enterprise, share tools, strategies and observations of their successes (and a few missteps) in social media.
The Tools
Before entering the social media sphere, Michael Grover of UMB TechWeb believes it is of utmost importance to hone in what a company intends as a result from participating in the conversation, "Registrants? Traffic? Are you trying to build a third party community with third party credibility? You need to sluice out the different things you want, and hopefully you'll find one that will rise to the surface as the prime directive."
According to Grover, there are 700 million Facebook users, 106 million users on Twitter and LinkedIn currently has 100 million members. This is an extremely large audience to engage with, and one that has a diminishing attention rate as the marketplace becomes more crowded with competitors selling similar wares.
Once a publisher has established initiatives and joined the social media community, tracking campaign success and content sharing is often the next step for publishers. These results then become part of a base strategy for content production and distribution, as publishers get to see what is catching on among users.
At UBM TechWeb, with products that include magazines, websites and social communities such as the newly launched BrainYard, Grover says a content tagging strategy has been important in guiding their social media strategy. An RSS feed is
integrated into all UBM brands, so staff can track what brand is being promoted and to what channel it's being promoted to on the back end.
In order to keep team members in sync, Grover reiterates how the importance of keeping a consistent strategy when tagging and tracking content, "It needs to be immediately understandable not just by you but by other people in your organization, which will reduce number of questions. Data is only good if you can track it historically; if you change your tagging, data becomes unusable."
UBM also utilizes a free online tool called Twitter Feed, which helps manage flowing information into Twitter. Grover says that while there is a similar service for Facebook from the Twitter Feed group, it is not efficient; instead, UBM uses RSS Graffiti for Facebook posting.
While the latest gadgets and tricks may seem appealing, Grover makes it top priority to "to be vigilant to see if they're performing and how they're performing; I'm always testing products as they come up. I run into many cases when things seem very promising, and then it stops working or doesn't work the way I thought it would."
For posting on Twitter, UBM TechWeb worked with URL shortener Bit.ly to produce Twb.io, a custom URL shortener that allows the company to fit an entire headline into a tweet. Twb.io also supplies real time tracking of tweets, and maintains branding the standard Bit.ly shortener does not.
Grover points out that while Twitter and Facebook may be the most immediately visible entry ways into social media, often, third party applications (like Tweet Deck) account for the majority of aggregating first party content; only 25 percent of Twitter drives come directly from Twitter's site, and 75 percent comes from third party applicants.
To alleviate this issue, UBM TechWeb utilizes Omniture, which is used to collect stats from UBM's web properties to track how much traffic came from Twitter and other social media forums, as well as third party applicants.
Over at Black Enterprise, Patricia Cesaire says Omniture is used to generate reports concerning hot topics on Facebook, Twitter and Ning (Black Enterprise's social community for entrepreneurs). Then, content in alignment with these topics is generated by Black Enterprise editorial staff.
UBM has also created a central wiki that is used throughout the company, which feeds to about 6,000 users. Grover says that this tool is so successful, half of these users log in to the wiki on a daily basis.
The Strategies
As both Grover and Cesaire point out, the two-way engagement opportunity that social media provides is key to building relationships with users. "You have to watch what happens when the content is out there and see what people do with the content. You also have to have the bandwidth to understand it," says Grover.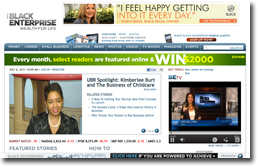 The BE editorial staff, from the magazine's editor-at-large to interns, are consistently engaged in conversations about trends the BE team is seeing in relevant content categories. Cesaire says that the constant evaluation of this dynamic is a big tool in the success of her company.
Cesaire also identifies the individualization of social media channels as a key to Black Enterprise's successes in the space, "Particularly with Ning, the audience (called the BE Insiders) behave as if they're neighbors and they have storefronts. Facebookers sound off in a one-off fashion, not necessarily engaging in dialogue with each other. We try to engage according to user behavior on each platform."
And just as the social media platform allows a dialogue about content between company and user, businesses are fast finding that users are eager to share the good and the bad of company behavior with staffers. Grover discovered this after a Facebooker commented that UBM "was clogging their feed"; after a Facebook member "likes" a company's fan page, the company's content is automatically updated to the member's home page.
Grover's team put out a survey asking users whether UBM was providing too much or too little information, "We got feedback that we were being too aggressive, and that we needed to tone it down a little bit."
Successes in the Sphere

In the custom-built Ning community, Black Enterprise developed a rewards program that's resonating well with the BE Insiders. Cesaire details a contest dubbed "The Elevator Pitch Contest". Black Enterprise hosts an annual entrepreneur conference, and its sponsors give 5 winning entrepreneurs $10,000 each to put towards their respective businesses. The sponsors also work with the winners to make sure the money is properly invested back into the businesses.
Contestants were encouraged to submit their "elevator pitch" via video format on the Ning platform. Cesaire says though YouTube had been used in the past for video entry, the Ning platform allowed for user comments and a more seamless experience.
"Folks not only returned to the Ning platform at a rate of 3 to 5 times more weekly; they were also building out convos, discussing strategies of videos and showcasing what they've done, business-wise, to enhance their pitch. It became a user-generated video hub, but also a platform for folks to converse and network prior to, throughout and after attending the conference," Cesaire notes of the contest.
Grover says that one of the brightest areas for UBM in the social media community is the ability to integrate media. The newly launched BrainYard, a community for business and technology leaders focused on social enterprise, is constantly fed with content from UBM's Twitter feed. UBM relates this community back to the Enterprise 2.0 conference, "piggybacking on registration around the conference."
In other UBM social communities, it may be more difficult to grow a larger audience with narrower content feeds, but Grover says that these smaller sites often mean a more attentive audience, "TechWeb Security, which is just our security content and has 800 followers, consistently go deeper into our content when they link to our site."
Meet the Author
---