How Business.com Traces the Transaction Path

The site's proprietary conversion tracker measures more than just eyeballs.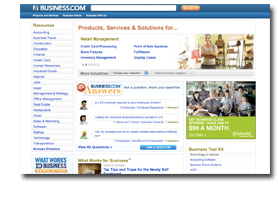 Business.com, the destination site that helps b-to-b buyers research their purchase decisions, determined in 2009 that standard analytics packages were not helping marketers figure out how buyers were making their way to the all-important "last click" before converting into a transaction. To help, the company developed what it calls a "Conversion Tracker," a service that lets participating marketers track the activities of prospects on Business.com that lead to a purchase decision.
At its core, Business.com is a directory and content site that also provides interactive features such as a Q+A platform that helps buyers find services in a range of markets from accounting to industrial goods. The content and directory mix has been set up to service a research process that has become longer and more complicated. "The problem in b-to-b is the buying process is lengthy and there are multiple layers of investigation," says Rob Feinstein, vice president and general manager of Business.com.
To become a "vendor of choice," marketers need to understand how buyers research their choices. In the context of Business.com, where marketers can avail themselves of a range of services from a directory listing to banner ads, pay-per-click (PPC) and a suite of campaign optimization services, traditional traffic metrics were not providing the whole picture.
To fill in the gaps, Business.com developed its Conversion Tracker, which, says Feinstein, is a "snippet of code" that a participating vendor embeds on its site and which allows it to track specific events that lead to a conversion. The tracker essentially illuminates the path a buyer takes to get to the "last click"—the final click that takes the buyer to the vendor's Web site to complete a transaction. "The last click is the only purely objective measure to attribute marketing spend to getting a conversion on your site," says Feinstein. "The problem is it doesn't take into account all these other things that lead to that. We're trying to offer that information, so the marketer can understand the process leading up to that click."
Business.com already offers a dashboard to marketers to track their campaigns on the site, and the Conversion Tracker is an add-on feature. It's free as long as the marketer meets a certain spending threshold. "The conversion tracking is an option they can add. The dashboard gives them visibility into all the elements of their campaign and allows them to fine tune it. The Conversion Tracker lets you see how much of the activity that came through Business.com ended in a conversion."
Feinstein says the site has several thousand advertisers vying for the attention of about eight million monthly uniques. The site has also created an ad network of business sites where client ads can appear via a PPC format. The Conversion Tracker also monitors activity on the 100 sites in the network. "We can look at conversion tracking data in aggregate by our traffic sources, so if we're distributing ads to a given site we can look at what traffic from that partner is converting overall," says Feinstein.
Meet the Author
---