You might have noticed that high priced "book-a-zine" products, carrying the brand name of well-recognized publications, are appearing more frequently on the newsstand. Their sales increases have been heralded as a bright spot on the otherwise dour newsstand scene.
I hate to throw cold water on this party, but they could actually be having a negative effect on overall newsstand performance. Perhaps, even more importantly, it now appears that the book-a-zine cover pricing experience may have translated into an over exuberance for increasing the cover price of regular frequency publications.
Seven Underlying Newsstand Market "Truths"
As background for this discussion, I've listed a set of what I'll call "newsstand market truths." These are not carved in stone, but they're a set of benchmarks to help guide publishers and circulators when making cover pricing and newsstand-only product (book-a-zine) decisions.
They're not meant to restrict innovation, but they can help publishers set efficient newsstand strategies and guard against over optimistic cover price assumptions and flawed newsstand-only product decisions. At their own peril, publishers have historically ignored these "truths."
Zero-Sum Game – There's a popular belief (or is it a hope?) that sales of new products or sales increases from existing titles are all incremental at the newsstand. But the reality is the mature newsstand market is a zero-sum game – sales increases, both in units and revenue, for one title will result in comparable sales decreases for other titles. This phenomenon is especially acute within category. 
Newsstand is Not a One-Off Experience – Newsstand sales for regular frequency publications are built on repeat customers. For example, the average newsstand buyer of a given monthly publication purchases 2, 3 or even 4 issues annually. For weekly publications, the average buyer may purchase 6, 7 or more issues annually. However, cover price increases reduce the average number of annual purchases of a given publication. This is why publishers should analyze purchasing behavior over an extended period of time when testing cover prices.
Multiple Title Purchases – Many newsstand buyers purchase a multiple number of magazines, even within a competitive category. Cover price increases can limit (see: Zero-Sum Game) the total number of magazines purchased annually. 
Cannibalization – The excessive build up subscription circ can certainly cannibalize newsstand sales. Sales can also be cannibalized by new non-competitive titles (the zero-sum market effect), but cannibalization is most readily understood by the effect of competitive titles and single-shot publications (i.e. "book-a-zines" or special editions) carrying the parent publication brand. 
Cover Price Increases Result in Fewer Unit Sales – Increased revenue from cover price increases can, in some cases, offset the loss of unit sales, but price increases (especially those greater than 10%) for regular frequency titles generally result in unit sales declines. This is particularly true in the current market environment. 
What's Good for the Major Titles is Good for the Market – The newsstand is a "best-seller" driven market led by major brands that are published on a regular frequency basis. The Top 20 newsstand sales publications account for a massive portion of the audited publication newsstand market—64.6 percent of units sold and 56.8 percent of revenue. So anything that affects the sales of the best selling regular frequency publications will have a huge residual impact on the newsstand channel as a whole. 
Cover Price Sensitivity – Cover price sensitivity for regular frequency publications is very acute—never more so than in this current market environment. See the "cover price sensitivity divide" section of this article for more details.
Book-a-Zines May Be Biting the Hand that Feeds Them
Most of the best selling book-a-zines carry the brand of regular frequency publications. In fact a great majority of them are published by the seven leading newsstand publishing companies: Time. Inc, American Media, Wenner, Meredith, Bauer, Hearst and Condé Nast.
Book-a-zine sales performance, because of their symbiotic relationship with the parent publication, often has an inverse affect on their regular frequency parent. The zero-sum nature of the market and the prospect for cannibalization are continuously in play. The effect can potentially be more severe if the book-a-zine is carrying the brand of one of the top 20 newsstand publications (which many do). Then, its effect may extend beyond the parent publication to include the category and even the market as a whole.
Proliferating and Disruptive – It's increasingly evident that book-a-zines are subsuming prime locations on checkout racks, replacing regular frequency publications.
Recently, I visited my local supermarket (16 checkout lanes). On the checkout rack, I found 41 different book-a-zines on display with cover prices ranging from $9.99 to 14.99: Time (10), Life (9), BH&G (5), People (4), US Weekly (4) and one each for National Geographic, Rolling Stone, Sports Illustrated, TV Guide, Cooking Light, Southern Living, Vogue and Vanity Fair.
Time. Inc is, by far, the major player in the book-a-zine arena. In my small survey, they published 27 of the 41 titles, while Meredith and Wenner (five each), Condé Nast, National Geographic and TV Guide (one or two each) combined to publish the balance.
These results are confirmed by Magnet and AAM data. In the first half of 2013, Time. Inc sales of non-audited publications exceeded the entire combined non-audited publication sales of the other Big 7 publishers. Plus, they were the only publisher whose sales of non-audited publications rose during this period.
I probably shouldn't have been, but I was amazed at the extent to which book-a-zines have infiltrated the checkout lanes and how they disrupt display. Their sheer numbers and seemingly endless on-sale periods make it very difficult to properly dress the racks. The result, at least in the store I visited, was a messy disorganized display, which made it hard to identify regular frequency publications.
Cannibalizing Sales of Weekly Celebrity Publications
The limited sales data that is available supports the cannibalization effect of book-a-zines. Its effect is likely to be most severe among the six audited weekly celebrity titles because many of them are book-a-zine "parents." Their sales (shown below in '000's), over the last two years, are compared to the newsstand sales of all audited publications, less the six celebrity titles.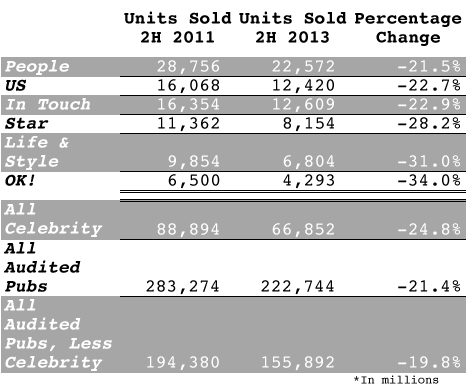 Unit sales of these six weekly celebrity titles declined 24.8 percent over the last two years. This compares to the unit sales of all other audited titles (less celebrity title sales), which declined 19.8 percent over the same period. This significant differential (5 percentage points) can, at least partially, be attributed to the cannibalizing effect of book-a-zines.
In the zero-sum newsstand market there is seldom a free lunch. This is true for book-a-zines. Their increased sales have not come without disrupting the sales of a host of other publications.
Cover Price Sensitivity Divide: Book-a-Zines and Regular Frequency Publications
The newsstand market for regular frequency publications has always been acutely price sensitive. That sensitivity has grown in recent years as publishers have chosen to maintain paid circ levels in the face of rapidly declining single copy circ. They have replaced the "lost" single copy circ with low priced subscriptions (i.e. partnership, verified, sponsored, combination, award sources) and replica circ, which now offers a legitimate single copy alternative. The expanded use of "alternative" subscription circ sources and replica circ have conspired to reduce newsstand demand, and in the process exacerbated newsstand cover price sensitivity.
This experience contrasts with book-a-zines. They are newsstand-only products, which are not encumbered by large subscription bases, circ level considerations or myriad low priced subscription promotions, like their regular frequency parents. Their cover pricing elasticity, therefore, is much greater. This is confirmed by rising book-a-zine sales, in a depressed market, even though they're being sold at prices three times higher than regular frequency publications.
Newsstand Market "Truth" #7 (continued) – Cover pricing elasticity between regular frequency publications and book-a-zines should never be confused. One is rather elastic the other remains extraordinarily inelastic.
Recklessly Testing the Bounds of Market Cover Price Sensitivity
The industry's cover pricing over-exuberance, which seems to be fueled by the apparent success of book-a-zines, reached a new peak several months ago when six of the industry's eleven best selling titles—People (#1), US (#2), National Enquirer (#4), Star (#6), Globe (#7) and OK! (#11)—increased their cover prices $1 (25 percent) to $4.99
This occurred with very little fanfare, but its implications are stunning. These six publications, from three publishers (Time. Inc, American Media and Wenner), represented more than a quarter (28.9 percent) of the unit sales for all audited publications in 2H 2013.
Look at it this way: a 25 percent cover price increase for these six publications is the equivalent of raising the cover price of all audited publications by 7.3 percent.
If there is a significant sales falloff, and there nearly always is when major publications with declining sales substantially raise cover price ("Truth #5), its effect will reverberate across the entire market.
If, for example, the combined unit sales declines for these six publications were relatively small, say 10 percent (over and above anticipated industry sales attrition, which has averaged 10% the last several years), this would result in a 3.0 percent incremental decline in total sales of audited publications. If the falloff were unitary (equal to the 25 percent price increase), which is certainly not beyond the realm of imagination, the incremental unit sales decline of all audited titles would be 7.5 percent. This means, as a result of raising cover prices on these six titles, that the annual sales slide of all audited publications could accelerate to 13, 14 or even as high as 18 percent.
Raising cover price prices on a quorum of major publications has placed the industry in uncharted territory. The invitable sales declines could have broad and unintended channel consequences.
Declining Sales of Major Weekly Titles: Broader Market Implications
Publishers and wholesalers should never lose sight of the fact that the newsstand is a "best seller" driven market, led by its nine major weekly frequency publications: People, US, Woman's World, In Touch, National Enquirer, Star, Life & Style, Globe, and OK!. It's their broad appeal and weekly frequency that attract the impulse-driven newsstand buyer. These nine titles give the newsstand its cache and freshness. They carry the newsstand load, accounting for nearly half of all unit sales of audited publications in the second half of 2013.
The problem the last several years, is the sales of major weekly publications are declining at a faster rate than other audited publications. As we've shown, the proliferation of book-a-zines may have contributed to this sales decline. Now, there's the very real prospect of further sales erosion due to the aggressive cover pricing of six major weekly publications.
Book-a-zines hogging checkout lanes and high priced major weekly publications present a concern for publishers because nothing (certainly not book-a-zines) can adequately replace the sales loss of the industry's bedrock regular frequency best-sellers.
It's Hard to Buck the "Truths"
The newsstand market has been roiled by thunderous changes that have precipitated sales declines averaging above 10 percent annually for five years. Adding to the channel misery is the implosion of one the industry's major wholesalers, Source Interlink Distribution. This has placed unexpected economic hardships on all the channel participants and has certainly lessened confidence in the prospect for correcting the channel difficulties.
But through it all, the newsstand "truths" tend to prevail. We're witnessing the zero-sum and cannibalization effects of book-a-zine expansion. Now, we're in the midst of a cover price increase experiment that's testing the bounds of normal cover price elasticity. There's a place for book-a-zines on the newsstand and opportunities for strategically raising cover prices. However, in these instances, witness the scale of these changes, publishers have apparently disregarded the "truths".
The result: the best-seller foundation of the newsstand is being endangered.
How Did This Happen?
The "blame" for book-a-zine proliferation lies primarily with Time Inc. As indicated previously, they're the undisputed kings of book-a-zines. They were able to achieve this lofty perch because only they, among the top newsstand publishers, have sufficient clout to influence display placement and the brand recognition necessary to give these products newsstand appeal. But in so doing they may have soured the checkout environment for regular frequency publications—their own, as well as others.
The exuberant cover pricing situation also finds Time Inc. at the forefront. By increasing the cover price of market leader, People, they may have inadvertently encouraged Wenner (US) and American Media (National Enquirer, Star, Globe, OK!) to follow suit. Bauer, the only other publisher with major newsstand weekly titles (Woman's World, In Touch, Life & Style), has held the line on cover pricing, as have Meredith, Hearst, Condé Nast, the other publishers of Top 20 newsstand publications.
Time Inc. Must Lead in Initiating Channel Reform
Book-a-zine proliferation and over exuberant cover pricing could cynically be viewed as quick revenue fix opportunities for the cash strapped publishers involved. But, of course, these things are only a part of the larger problems plaguing the newsstand channel. However, in a real sense, they are representative of publisher's "go-it-alone" newsstand strategies that have historically hindered newsstand channel reform.
Realistically, it's only the major publishers, acting cooperatively, that have the power to initiate the reform necessary to save the newsstand channel. After all, it's not the medium- and small-sized publishers that produce book-a-zines, that are displayed at checkout or whose cover price increases can sway the entire market. Saving the market rests squarely on the shoulders of the industry's seven major publishers.
But, as the industry has painfully discovered, it's been extremely difficult for this group to work cooperatively for the good of the channel. I now believe that Time Inc. (and only Time Inc.), among its publishing peers, has the power, influence and incentive to form and lead a cooperative publisher newsstand reform effort.
If these seven publishers can't get together to initiate meaningful channel reform, I'm afraid the broad-based newsstand market that publishers enjoy today may be lost forever.