How BNP Media is Creating Custom Ad Programs with Standardization

A Q&A With Christopher Wilson, BNP Media's Business Dev. Manager.
Publishers today are creating custom campaigns that are driving new and lucrative business for them. One of the key successes in these campaigns is incorporating the right blend of customization and standardization.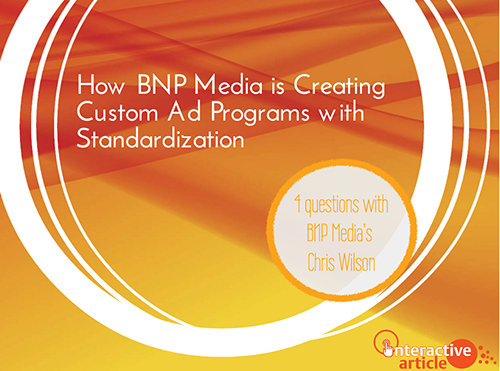 Publishers today are creating custom campaigns that are driving new and lucrative business for them. One of the key successes in these campaigns is incorporating the right blend of customization and standardization.
Here, FOLIO: catches up with Christopher Wilson from BNP Media, to find out how its custom ad campaigns are driving sales. Christopher will be discussing the topic in-depth at MediaNext, Oct. 20-22.
FOLIO: What's the most successful custom ad program BNP has created in the last 6 months? What made it work?
Christopher Wilson: Our Interactive Product Spotlights (IPSs) have become a marketing game changer and one of our most successful custom ad programs to date (Ed. note: Click the image above to see an example of the IPS technology Wilson is talking about). The core idea was to create a custom offering that doesn't feel like a typical ad to readers –one that gives them a better way to engage and interact with an advertiser's brand and products– and puts them in control of how a message is explored.
Each custom IPS deliverable is created through the Ceros design studio by our in-house custom publishing team. An advertiser supplies us with their preexisting marketing collateral (ads, brochures, photos, videos, supporting non-commercial content) that we then reformat and design into the interactive HTML5 Ceros media format, along with subtle animations and interactive functionality. The end result is a really cool brand or product engagement experience. It's then promoted to a BNP Media brand audience through a lead-generating multi-platform campaign.
One of the greatest benefits of the IPS program is that we're combining custom publishing with market-specific promotion. This means that once the BNP campaigning concludes, sponsors still have a unique deliverable to market on their own or re-market through BNP Media. Another benefit to sponsors is that they can embed the IPS directly onto their website to generate inbound traffic. We're also finding that many customers are even using their IPS as a selling tool for sales calls and tradeshows.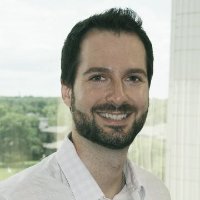 FOLIO: So what makes the IPS program work for BNP?
CW: There are two things that really make the IPS program work for us: new publishing technology and our creative staff.
If it weren't for Ceros, we wouldn't be able to create such dynamic interactive experiences. This is a brand new way for our audiences to interact with media, making it a win-win for both sponsors and readers. And we've only uncovered the tip of the interactive publishing iceberg; you'll be seeing some awesome new media come out of BNP Media later this year including interactive articles and eBooks.
Then there's our staff. From concept development to production to design, interactive media publishing requires a great deal of creativity. To take on IPSs, our custom publishing team had to jettison the traditional publishing mindset and replace it with one that anticipates reader interactions and integrates logical calls-to-action.
FOLIO: How would you define the right mix of both standardization and customization for an ad product?
CW: I think the right mix is intimate to every individual brand within a publishing organization. At BNP Media, we have more than 50 brands catering to 11 distinct industry markets. By design, every new ad product starts out as a universal concept that can be systematically launched across all brands using our preexisting infrastructure.
The level of customization is a reflection of each brand. Prior to going to market, each brand team is presented the new product as a universal and viable concept. They are also made aware of key areas of potential customization. It's the individual brands that add a manageable level of customization to the product to suit its advertisers, its audience and its staff and editorial resources.
FOLIO: What are the most important factors in creating a native ad program that is focused on a target audience?
CW: There's that word…native. The single most important factor for creating a native program is that it is designed with the target audience in mind. Cookie cutter native programs often lack foresight and can quickly harm a brand's editorial integrity and lose the trust of its audience.
First, brands that are implementing native programs should predetermine how much, if any, editorial involvement they should have in developing content with sponsors. For instance, there are plenty of great examples of co-written native ad content (content produced by both brand editors and the advertising company), but while this model works well for some media companies, it doesn't fit the editorial mold of the majority of BNP Media's brands.
Brands should also define rules and guidelines for native content submissions and not hesitate to turn down sponsor-written content that isn't up to par. At BNP Media, our brand editors review all native ad content submissions prior to publishing. If editorial guidelines haven't been followed, we'll communicate back to the sponsor the exact reasoning behind the rejection and offer them the opportunity to revise. This isn't meant to be restrictive, but rather to provide them and our audiences the best possible opportunity to engage with each other.
Finally, brands should determine how the sponsored content is going to be presented to its audience. This requires establishing native advertising branding guidelines for all media channels included in the campaigning.
FOLIO: What are some obstacles BNP has ran into when creating these ad products for mobile?
CW: From mobile apps to native apps to mobile-friendly eNewsletters and everything in between, the biggest challenge with mobile is that it adds a new layer of complexity to our internal workflow processes and to our vendor relationships.
Our approach to launching new mobile products is pretty methodical. We'll identify the steps that need to be taken for implementation and then follow these steps to test launch the product on one of our brands. Through this process we're able to identify and document any unanticipated workflow disruptions that emerge for both brand staff (editors and production managers) as well as internal support staff (IT).
This process also allows us to fix any technology-related issues that arise, such as: "the image isn't showing up like it's suppose to." It's not uncommon during the planning and test launch phase for our technology vendors to directly collaborate with one another to provide a solution for our needs.
Once the test launch has been completed and we've refined our workflow process and set up new checks and balances, we then begin rolling out the new product across the remainder of our brands.
All of the obstacles we face are a necessary evil, though. Our internal market research indicates that more than 65 percent of our digital media is being accessed using a mobile device.

Meet the Author
---