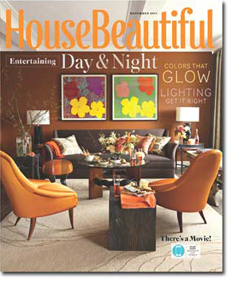 Hearst's House Beautiful magazine is taking advantage of the newest publishing technology trend—digital watermarks—to provide expanded content options and to tap insights about readers.
"I see this Digimarc water mark as the next technology to be incorporated into the magazine experience," says Newell Turner, editor-in-chief of House Beautiful. "This allows us to be able to deliver additional content and different content in ways that we haven't been able to do before."
The November issue of House Beautiful will be one of the first magazines to feature a a digital watermark on its cover, placed in the lower right-hand corner (pictured). The watermarks allow the magazine to see what devices a person is using to access the content.
"Whether it's an Android device, an iPhone or an iPad 2, the watermark tells us," he says. "We're really interested in getting that information because it will be revealing in some ways."
Turner says digital watermarks are like QR codes in that they can enhance editorial content. However, he says, a digital watermark can do so without disrupting a publication's style and format with a QR code graphic. Additionally, the editor says it can help engage younger audiences and expand demographics.
"It's all natural to them to be able to connect to different mediums," he says. "This can be a seamless, obvious next evolution for them."
The editorial mission can be expanded—and keep people in-app longer—through utilizing the watermark to integrate features a traditional magazine could never provide. In the case of House Beautiful, which may photograph a beach home, capturing a view of the ocean out a window was difficult. Now within a photo placed next to an article, a watermark can be incorporated to provide readers with a 360-degree view.
According to the most recent comScore figures, House Beautiful has 489,000 unique visitors and over 13 million page views. The average time spent on its website is 20 minutes. The group would not disclose how many users have download the magazine's iPad app.
Turner says the publication will commit to doing at least 5 digital watermarks per issue beginning with the October edition—he says the number was picked to create a minimum presence within the digital pages. An area in the table of contents of the digital magazine is also devoted to links that include all the watermarks in the publication.
So far, readers seem to be engaged with the new watermark and product.
Ambience Inspired Interiors wrote on the editor's Facebook page, "I'm enjoying the highly interactive November issue! Thanks for taking HB to the next level—it is so enjoyable!!!"