House Beautiful Launches Integrated Marketing Campaign Using Digimarc Technology

Glidden Paint first sponsor on board for integrated mobile campaign treatment.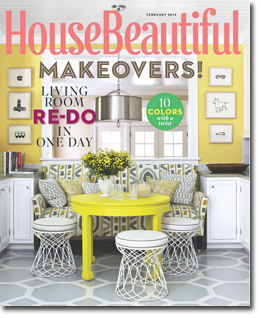 Hearst's House Beautiful expands its Digimarc strategy through an integrated marketing campaign with paint brand Glidden. In the magazine's February edition, a Glidden Paint splash page is included in several editorially focused House Beautiful videos.
House Beautiful began full editorial integration in-book of Digimarc's digital watermark in its October issue; in November, the magazine included a watermark on its cover. Publisher Kate Kelly Smith says the decision to engage readers through this technology was made after 5,000 people scanned an apartment story featured in the July issue over Independence Day weekend.
While Smith did not share audience engagement metrics with the watermark technology, the number inspired House Beautiful to integrate the technology into featured advertising. When watermarked content is scanned, readers view a splash page spotlighting Glidden Paint's new color blog portal The Color Topia before entering the editorial video. Past videos include a kitchen tour by celebrity chef Tyler Florence and a 3½ minute spot about Warhol's Factory Girl.
In order to differentiate between editorial and advertorial, color-coding is used: blue for edit, and orange for ad. In addition to the splash page, House Beautiful partnered with the sponsor to produce a video promoting The Colortopia Blog.
Of 8 articles that include the watermark and expanded video content, 4 feature the Glidden splash page.
Advertiser interest has been high since the campaign's debut; Smith says she has been approached by at least three companies for more information. When asked about the number of future partners for this particular type of campaign, Smith tells FOLIO:, "We worked closely on the integration point of this, so it has to have an editorial mission. We're not giving it away; it's not a free-for-all."
House Beautiful, founded by Frank Lloyd Wright in 1896, releases 10 issues yearly. According to PIB, the magazine's ad pages fell 3.7 percent last year, down from 710.89 pages in 2011 to 684.45 pages in 2010.
Meet the Author
---