For many publishers, 2011 was consumed by app development, vendor negotiation and choosing platforms to offer the freshly hatched products on. Fast-forward to 2012, and these apps are more or less ready to be pushed out to the masses. Here, FOLIO: speaks to two publishers about the strategies, wins and hesitations behind bringing a profitable app business to fruition.
Finding the Right Channels, Fueled with Partner Power
EVP of the National Geographic Society and president of National Geographic publishing and digital media Declan Moore says the National Geographic app is benefitting from several factors.
"We have been actively prospecting through our database subscribers; not just to the magazine, but we have a large number of email contacts who have purchased other content points with the society. We've also been undertaking a number of email campaigns," Moore says.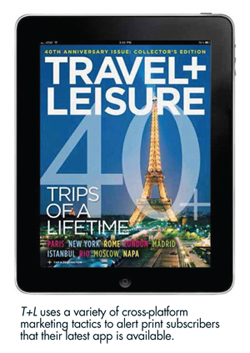 Search engine marketing has not been a large part of National Geographic's app marketing strategy so far, as the publisher is attempting to do as much as it can with earned media; a term coined for publicity "earned" by positive attention, reviews and social sharing in the press and among consumers. House ads ran in the print edition as well.
"Your partner can also help significantly, be it Apple or Amazon, in promotion. Having the app featured in the carousel, or having it featured in the app picks, that certainly helps," says Moore.
Like National Geographic, American Express Publishing is finding success in a combination of the identification of strong marketing channels enhanced by partner promotion. Kristin Perla, director of audience development and digital marketing with Amex Publishing, says her company sees a jump in subscriber numbers each time Apple chooses to feature an Amex product in the iTunes store. Inclusion on Apple's Newsstand also helps with sales.
Amex Publishing's cohesive marketing strategy is based on driving current subscribers to authenticate their digital subscriptions on the iPad, as well as acquiring new customers.
"We've tested all of our internal marketing channels: Some of the best in-book editorial call-outs are page ads, online mobile targeted media campaigns, email campaigns, working from our database, our renewal notices, call-outs in the customer service center and cross promotion in-app," says Perla. "We conduct call-outs via social media on a monthly basis, and we also have a calendar that we announce when the next issue is available for pick-up."
Perla says the editorial promotions are some of the most effective ways in gaining new subscribers to Amex's digital properties. "We've had a call-out on the cover flap and a burst on the cover, and we've seen the biggest downloads from those efforts," she explains.
For the 2011 holiday season, National Geographic launched an all-access offer that granted subscribers a gateway to the print issue, the digital edition and the recently launched archive, which hold 124 years of NatGeo content. The offer is still available on the magazine's landing page.
While Moore declined to share the number of subscriptions gained from the all-access offer, he says, "It went well. We're dressing up extensive testing in the strategy: Testing price point, bundling, digital bundling, between Web archives and apps, then including print bundling."
Moore says this type of consumer-facing testing is common throughout the industry, "We're all testing things. Anyone who says they have a strategy in this space, you have to take with a grain of salt."
American Express Publishing is planning to offer an expanded version of its current all-access program later this year, "We'll offer customers the ability to authenticate not only their iPad, but on their NOOK and Kindle devices as well. Then we'll really push those messages across those channels again," says Perla.
App Promotion:A Cause for Concern?
While Moore says NatGeo's app sales are doing well both domestically and internationally, there is still some hesitation in terms of executing a full-blown media blitz to promote digital editions and standalone apps.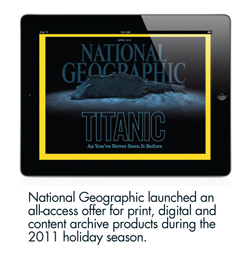 "In this space, we're all wrestling with the instability of some of the platforms. It's a fast moving space, as updates are going out all the time. People on our team are better at learning to use the tools, but new drops are constantly coming, and we've been a little anxious to go forward with an external paid campaign," he says. "As the platforms become more stable and we become more confident in the return of third-party paid media, we'll look to do more new customer outreach."
Once app platforms become more reliable, National Geographic will begin a bigger push to encourage pre-existing subscribers to authenticate in to receive digital editions. There will be also more mention of digital content options in National Geographic's print issue as well, "There will be more pointers to supplemental content that we're able to bundle into our interactive edition," says Moore.
However, when these tips do begin their run in print, another new marketing dilemma is likely to appear. "You do have an issue if you have a number of digital editions out there. When you talk about the features per device (the iPad, the NOOK, the Kindle standard and the Fire, etc.), it's not necessarily the same across all platforms," Moore points out.
At American Express Publishing, Perla and staff are learning the digital marketing terrain as they go, "Originally we were marketing through some paid ad mob campaigns for paid media channels. Through that, we saw a lot of container downloads but not a lot of purchasers. We do less of that now, as it was less efficient for us," says Perla.
The unsteadiness of the new digital platforms is less of a concern for Perla's team. She tells FOLIO:, "We're being slightly cautious, but we are benefiting from being found in the Newsstand. The callouts on our sites are gaining new subscribers as well. We're playing in the field."