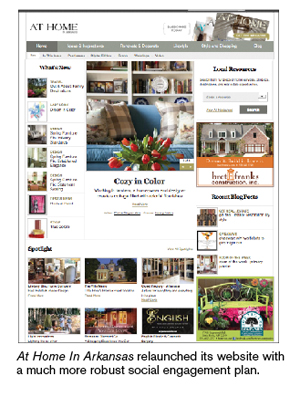 For a city and regional publication with a monthly circulation of 28,500, At Home in Arkansas is reaching a far bigger audience than its core local demographic.
In April the title launched a redesigned website with improved search functionality and rich multi-media content—the effort is designed to support its robust social audience.
"We've added galleries that allow users to search by rooms—kitchens, baths, bedrooms—and by color as well," says Rosemary Hallmark, the brand's editor. "In this way we're able to take everything and give our Web readers what they wanted. They want to look for inspiration on our website, and with galleries we're able to take it to the next level."
The site, AtHomeArkansas.com, also integrated new blog features and social media plug-ins.
"Readers can leave a comment on any article, picture or post, and it shares their comment on their Facebook, creating a conversation on each article," she says. "The point was to keep readers on our website—before the blog was on a separate site which took them away, as did social media. This is a way to keep everyone our site for as long as possible."
The editor says that readers use the print product as a way to generate inspiration for their own homes, and the magazine saw that Pinterest was a growing platform among existing and new audiences.
Trailblazing Social
"Digital has been a major goal of ours and for Arkansas publications, we were really a trailblazer in social media and we got our audience set up early on, about five or six years ago," she says. "We're a very photo heavy magazine so [online] we needed to be a visual source and be able to converse with readers on a daily basis. We view digital as a way to expand on all of our content."
The publication currently has the highest social media numbers of any publication in the entire state of Arkansas. The brand has nearly 10,000 Facebook fans, over 3,000 Twitter followers and about 1,000 Instagram followers.
"Pinterest is a big one for us to share our content," she says. "People who are not in Arkansas, and bloggers nationwide share our content frequently. We've got about 2,500 Pinterest followers, and we get more than 25,000 blog hits as well. We've got really great numbers for a regional publication."
Tying Print to Digital
In print, the magazine ties in the digital experience with a dedicated half page of what's going on the Web.
"We'll put in Instagram photos and we'll ask a question to our Twitter followers with a hashtag so they can respond online," says Hallmark. "We've made it a point to, across the board, have our social media user names be the same so it's easy to find us. Anytime we write a story that has more photos you can see online, we'll note it in the magazine. We also expand on our print content in blogs as well."
Hallmark says the brand has been able to grow its following by developing a strategy centered on reader desires.
"The numbers have kept growing because we've been giving our online readers steady content, we've asked them questions and shared back and forth with them to keep the conversation going," says Hallmark. "The more we give them, the more we tend to get back, which is how we've managed to grow this audience so well. A lot of our content you've probably seen online, on blogs or on Pinterest and haven't even realized. We've been so good at sharing our content online that a lot people have probably seen At Home in Arkansas content and haven't even known that it's us."