The Hollywood Reporter Launches East Coast Edition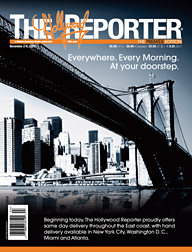 The Hollywood Reporter today launched its East Coast magazine, The Hollywood Reporter: Premier Edition-the result of a ballpark $5 million investment by parent company Nielsen Business Media. The new project includes the addition of a New York printing plant, the hiring of five staff members (including a national editor and senior writer), expanded New York coverage, daily home delivery to east coast cities and Chicago, newsstand sales in New York City and weekly delivery to Europe, explains senior vice president and publishing director Eric Mika.
The east coast edition launches with a controlled and select newsstand circulation of nearly 10,000. It will include four pages "skewed to New York," Mika says, covering the entertainment business from Wall Street to Madison Ave.
For Mika, the east coast edition marks a major commitment from Nielsen, "and that is almost a stage one commitment," he tells Folio:. It marks a widening of the magazine's editorial coverage which is likely leading towards a major "restructure and redesign," of the magazine, hinted by Mika to launch near the turn of the New Year. The new coverage appeals to, for example, investment bankers on Wall Street and, as Mika says, "a new readership base of lawyers." This, he notes, "makes D.C. also important."
"We expect growth," says Mika, "but there is a cap to b-to-b growth, so we expect to change." But that doesn't mean they're going consumer. "It's still b-to-b," says Mika, "but the second 'b' is now everybody. Everybody wants to be in it." He notes, as proof, the increasing global entertainment coverage by major business publications like The Wall Street Journal.
The Premier Edition also gives THR more headway overseas. Now, with printers on the U.S. East and West coasts, it more easily reaches both Asia and Europe. As a result, the Premier Edition's Friday issue is bolstered into a weekend edition that gets printed in New York and is "on the plane to London" for weekend delivery overseas.
THR's global presence has been growing since Mika took over as publishing director in April, with the launch of its digital edition in June-which runs in 13 languages-and the expansion of its now multi-million dollar American Film Market Show Dailies business. The THR brand is attached to daily editions at the Korean film festival Pusan, the Berlin Film Festival, and the film festival in Cannes. In December, it partners with Gulf News for the film festival in Dubai, and Mika says THR is exploring five to 10 more dailies. Also, in November, they launch a THR Asia Web site with full video broadband, international news, and cross-border regional coverage.
These moves are being made with help from what Mika calls a "redesigned editorial room." He says they've brought on "brand new management" in their L.A. headquarters, including editor Elizabeth Guider and national editor Todd Cunningham. THR has editorial offices in Beijing and Hong Kong and has hired 13 writers throughout Asia, including two in the United Arab Emirates. They've also added three writers in Europe to their stable of five.
The dailies put this new team to the test, according to Mika, and prepared them for the next step-today's launch, which is a test for what he calls the "third level": a totally new approach, reflecting changes in the industry it covers. Mika expects to have a leg up on its competition in the international entertainment market, he says, "This is a new industry that the traditional industry is starting to work with. We have already established those relationships."
Meet the Author
---