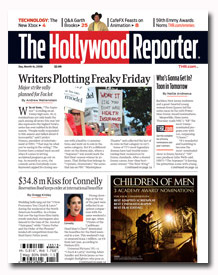 In what the company is calling a "wholesale overhaul" of its 78-year-old brand, the Hollywood Reporter is expected to announce today a historic relaunch of its magazine, featuring a new logo for the first time in its history as well as a broader editorial scope.
The Web site, also scheduled to relaunch today, purports to be closer in look and feel to the print product, according to the magazine's SVP, publishing director Eric Mika.
Mike says THR will work closely with parent company Nielsen to garner exclusive data, something he says will "change the dynamic of what The Hollywood Reporter used to do." It will target an expanded audience with more equity, finance and technology stories to serve the "convergence businesses that are interested in Hollywood," such as law and the new media explosion in Silicon Valley.
"In essence, this had to be done," Mika says. "It's a publication that for 78 years hasn't changed. We felt the publication needed to reach out to the 21st century readers, and that's basically what we're doing."
The magazine, Monday through Thursday, will be "much tighter, with fewer jumps-a quicker read," says Mika. The weekend edition will be "much more analytical," with special features, charts and guest columns while maintaining the "daily newspaper look and feel."
In November, the Hollywood Reporter launched a daily East Coast edition and expanded its weekend edition distribution to Europe. According to the magazine, daily edition circulation has grown 19 percent and weekend edition circulation has grown 22 percent since its September 2007 ABC report.