The Hollywood Reporter Breaks Out New Style Vertical

Pret-a-Reporter to feature contextualized ecommerce integration.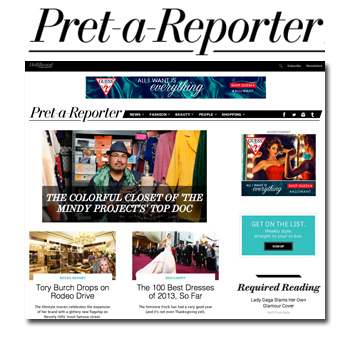 The Hollywood Reporter has been aggressively expanding its product portfolio over the last eight months. The group launched tech and indie channels in the spring, along with a contextual ecommerce program aimed at its consumer audience. In July, Dan Strauss was brought on as GM of digital to continue development.
Now, THR is blowing out its style coverage into its own (albeit, related) brand, Pret-a-Reporter. The new vertical builds on existing coverage aimed at celebrity style trends, focusing on both stars and behind-the-scenes influencers.
Strauss says the Pret-a-Reporter launch is similar to the magazine's other channel projects—they're all focused on catering to specific audiences advertisers want to reach—but characterizes it as a bigger investment with more opportunities.
Make no mistake, advertising is the core business proposition here, Strauss says, but contextualized ecommerce is one of the areas he thinks they'll be able to leverage on the new site.
Readers can click on products referenced in the editorial content and be taken to a third-party vendor who will carry out a transaction. THR will get an undisclosed portion of the revenues and aggregate purchase data back to inform their product curation.
See Also: Add to Cart – Four Profiles In Ecommerce 
On its face, the program is similar to an ecommerce partnership the site formed with movie ticket retailer, Fandango, earlier this year. Critical differences in timing and familiarity do exist however.
"The investment hypothesis going into Fandango was that it made a lot of contextual sense to have the ability to [buy] movie tickets when you're reading reviews about movies," Strauss says. "While it's a great hypothesis, [we learned] we're really going to have to pick our battles in terms of making assumptions around what people are doing on the site. People are purchasing, but a lot of our traffic is around the content we're producing—the breaking news aspects. It's more of a passive experience than thinking: 'I want to go see this movie on Friday, let me go get a ticket.'"
"I think we'll see a lot of that contextual buying in the style space because people are already shopping in that fashion—seeing what they're interested in on their desktop or smartphone and clicking through whether it's a Monday, Thursday or Saturday evening," he says.
Meet the Author
---