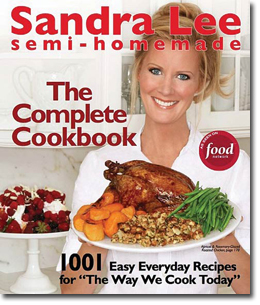 Semi-Homemade, the magazine of Food Network celebrity chef Sandra Lee, will no longer be published by Birmingham, Alabama-based Hoffman Media following its January/February 2012 issue.
The magazine—published under a licensing agreement with Hoffman since February 2009—will be relaunched in 2012 as part of a "multiplatform brand reorganization," according to a Sandra Lee spokesperson who declined to give further details about plans for the magazine.
The parting between Hoffman and Sandra Lee is "amicable," the spokesperson told FOLIO:, as "priorities changed for both parties," and "neither Sandra nor Hoffman were unhappy with their arrangement." He says the magazine's October/November issue was one of the "strongest ever," creatively and financially.
Eric Hoffman, executive vice president and COO of Hoffman Media, agrees, saying his company's priority now is "to focus on its core business and proprietary brands," as Sandra Lee's focus shifts to "a more thoughtful approach to TV and Web, with more of a publishing focus on books."
Hoffman Media, special-interest publisher of nine other titles including Cooking with Paula Dean, Taste of the South and Southern Lady, was launched in 1983 by its president and CEO Phyllis Hoffman DePiano, who was named to the FOLIO: 40 in 2010. The company boosted its revenues 65 percent between 2006 and 2009, from $25 million to $41.3 million, with 80 percent of it coming from subscriptions and newsstand sales, Hoffman told FOLIO: last year. In 2011, the company's other Food Network celebrity publication Cooking with Paula Dean, which launched in 2005, claimed a rate base of 600,000, while Semi-Homemade reported a paid circulation of 300,000 in its 2011 media kit.